Meritorious Faculty Award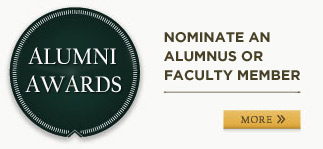 The Meritorious Faculty Award is presented to a faculty member who has demonstrated excellence in the areas of teaching and research. Nominees must have an appointment (full or partial) in the College of Natural Science. Recipients exemplify MSU's commitment to the land-grant mission of teaching, research and outreach through their dedication to professional, community and/or MSU service. The award includes a one-time stipend of $1000.
Anyone may submit a nomination.
The award is presented at the annual alumni awards held in conjunction with Classes Without Quizzes.
Nominations not selected to receive the award are held for three years and automatically re-nominated each year.
Questions? Please contact Sara Ford via email or (517) 884-0290.
2022 Meritorious Faculty Award
EDWARD F. BROWN
Professor, Department of Physics and Astronomy, and FRIB; Interim Chair, Department of Computational Mathematics, Science and Engineering
Professor Edward Brown, a renowned researcher in the field of nuclear astrophysics, is one of the foremost experts regarding astronomical compact objects. In the area of computational astrophysics, his research exemplifies the interdisciplinary nature of nuclear astrophysics, and he collaborates extensively with both observational astronomers and nuclear physicists.
His work has made it possible for scientists to interpret astronomical observations of cooling neutron stars, some of the most exotic stellar objects in our universe. Brown and collaborators have made some of the first quantitative studies of how the interior structure of accreting neutron stars could be understood through observations of how they cool. It remains one of the few ways to reduce the timeline—from millennia to just years—when studying the structure of these objects.
Brown is a proponent of open-source modeling where different research groups can easily share and benchmark results. He has contributed to the open-source MESA (Modules for Experiments in Stellar Astrophysics) code, which has thousands of users worldwide in many subfields of astronomy.
In addition to Brown's illustrious scientific career, he has been an excellent teacher and mentor, with a strong commitment to his students and a desire to see them succeed. He has been involved in the overhaul of several physics and astronomy courses intended to increase student engagement and provide more relevant and modern training (such as programming). He was awarded MSU's 2013 Thomas H. Osgood Teaching Award as well as the 2015 MSU College of Natural Science Teaching Prize. The open-source textbooks that he created for his astronomy courses have also been adopted by physics and astronomy departments at other universities.
He has also given public lectures at astronomical associations in Michigan, and served as a research mentor for the local Okemos High School (2016-2018).
Brown received his B.S. in physics (1993) from The Ohio State University, and his M.A. and Ph.D. degrees in physics (1999) from the University of California, Berkeley. He joined the MSU faculty as an assistant professor in 2004.
Past Recipients
2021 - Shannon Manning, Department of Microbiology and Molecular Genetics
2020 - Gemma Reguera, Department of Microbiology and Molecular Genetics
2019 - David P. Weliky, Ph.D., Department of Chemistry
2018 - L. Karl Olson, Department of Physiology
2017 - Richard Hill, Integrative Biology
2016 - Edward Walker, Microbiology & Molecular Genetics and Entomology
2015 - Babak Borhan, Chemistry
2014 - Steven Heidemann, Physiology
2013 – Robert Maleczka, Chemistry
2012 – Gary Westfall, Physics & Astronomy
2011 – C. Robin Buell, Plant Biology
2010 – Julie Libarkin, Geological Sciences
2009 – James Stapleton, Statistics & Probability
2008 – Aureal Cross , Geological Sciences & Plant Biology
2007 – Ralph Taggart , Plant Biology & Geological Sciences
2006 – Jack Bass, Physics & Astronomy, George Bird, Entomology
2005 – G.J. (Mike) Karabatsos, Chemistry
2004 – Edwin Kashy, Physics & Astronomy
2003 – Susan Conrad, Microbiology & Molecular Genetics
2002 – Loren Snyder, Microbiology & Molecular Genetics
2001 – Jerry Babcock, Chemistry
2000 – Robert Hausinger, Biochemistry/Microbiology
1999 – Julius Kovacs, Physics & Astronomy
1998 – John E. Wilson, Biochemistry
1997 – Glenda Lappan, Mathematics
1996 – Jack Preiss, Biochemistry
1995 – Emanuel Hackel, Zoology
1994 – Hans Kende, Botany & Plant Pathology
1993 – Howard Hagerman, Lyman Briggs School
1992 – Pamela Fraker, Biochemistry
1991 – James Hamilton, Chemistry
1990 – Jerry Dodgson, Biochemistry
1989 – John Beaman, Botany & Plant Pathology
1988 – Clarence Suelter, Biochemistry
1987 – Everett Beneke, Botany & Plant Pathology
1986 – Alexander Tulinsky, Chemistry
1985 – Marvin Hensley, Zoology
1984 – Fumio Matsumura, Pesticide Research Center
1983 – John Lockwood, Botany & Plant Pathology
1982 – Kyung Whan Kwun, Mathematics
1981 – Leo Mericle, Botany & Plant Pathology