Meritorious Faculty Award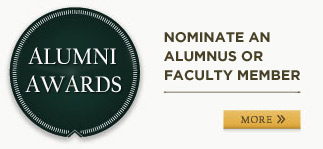 The Meritorious Faculty Award is presented to a faculty member who has demonstrated excellence in the areas of teaching and research. Nominees must have an appointment (full or partial) in the College of Natural Science. Recipients exemplify MSU's commitment to the land-grant mission of teaching, research and outreach through their dedication to professional, community and/or MSU service. The award includes a one-time stipend of $1000.
Anyone may submit a nomination.
The award is presented at the annual alumni awards held in conjunction with Classes Without Quizzes.
Nominations not selected to receive the award are held for three years and automatically re-nominated each year.
Questions? Please contact Sara Ford via email or (517) 884-0290.
2018 Meritorious Faculty Award
L. Karl Olson, Ph.D.
Department of Physiology
Whether it be through his contributions to diabetes research, his impact on students through his teaching and mentoring, or his public service through professional organizations, Karl Olson is an excellent faculty member very deserving of recognition.
Olson maintains a successful research program studying the regulation of pancreatic β-cell growth, differentiation and physiology in order to develop therapeutic targets for the prevention and treatment
of type 2 diabetes. His research has demonstrated that enhanced lipogenesis and neutral lipid storage function to protect β cells from excess glucose and free fatty acids. This research has led to other biochemical pathways that can protect β cells from dysfunction and cell death, and may serve as therapeutic targets to treat type 2 diabetes. His research on lipid and glucose metabolism in β cells has further led to funding from the Juvenile Diabetes Research Foundation to identify novel lipid biomarkers indicative of early stages of β cell autoimmunity in a type 1 diabetic rodent model and in human subjects with new onset or longer duration of type 1 diabetes. His work has also led to a
number of funded collaborations in the areas of natural products, breast cancer and brain cancer.
Since his arrival at MSU in 1995, Olson has been involved with teaching students at all levels—from undergraduate, to graduate to professional—both in the classroom and in his laboratory. His underlying philosophy behind teaching is to develop critically thinking individuals who are scientifically literate. In 2016, he was recognized with the College of Natural Science Undergraduate
Teaching Award.
Olson is committed to public service at MSU at the department, college and university levels. At the state level, he serves on the Michigan Board of Nursing, with goals of serving in the public interest, and strengthening the interactions of the Department of Physiology with MSU's College of Nursing. At
the national level, Olson reviews for numerous scientific journals, serves as a reviewer for multiple national granting agencies and is a member of several professional societies.
Past Recipients
1980 – Charles Sweeley, Biochemistry
1981 – Leo Mericle, Botany & Plant Pathology
1982 – Kyung Whan Kwun, Mathematics
1983 – John Lockwood, Botany & Plant Pathology
1984 – Fumio Matsumura, Pesticide Research Center
1985 – Marvin Hensley, Zoology
1986 – Alexander Tulinsky, Chemistry
1987 – Everett Beneke, Botany & Plant Pathology
1988 – Clarence Suelter, Biochemistry
1989 – John Beaman, Botany & Plant Pathology
1990 – Jerry Dodgson, Biochemistry
1991 – James Hamilton, Chemistry
1992 – Pamela Fraker, Biochemistry
1993 – Howard Hagerman, Lyman Briggs School
1994 – Hans Kende, Botany & Plant Pathology
1995 – Emanuel Hackel, Zoology
1996 – Jack Preiss, Biochemistry
1997 – Glenda Lappan, Mathematics
1998 – John E. Wilson, Biochemistry
1999 – Julius Kovacs, Physics & Astronomy
2000 – Robert Hausinger, Biochemistry/Microbiology
2001 – Jerry Babcock, Chemistry
2002 – Loren Snyder, Microbiology & Molecular Genetics
2003 – Susan Conrad, Microbiology & Molecular Genetics
2004 – Edwin Kashy, Physics & Astronomy
2005 – G.J. (Mike) Karabatsos, Chemistry
2006 – Jack Bass, Physics & Astronomy, George Bird, Entomology
2007 – Ralph Taggart , Plant Biology & Geological Sciences
2008 – Aureal Cross , Geological Sciences & Plant Biology
2009 – James Stapleton, Statistics & Probability
2010 – Julie Libarkin, Geological Sciences
2011 – C. Robin Buell, Plant Biology
2012 – Gary Westfall, Physics & Astronomy
2013 – Robert Maleczka, Chemistry
2014 - Steven Heidemann, Physiology
2015 - Babak Borhan, Chemistry
2016 - Edward Walker, Microbiology & Molecular Genetics and Entomology
2017 - Richard Hill, Integrative Biology