Outstanding Alumni Award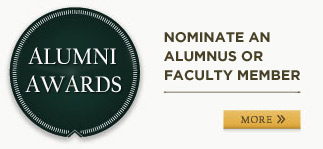 The Outstanding Alumni Award recognizes alumni for outstanding professional achievement and support of the college or university. Recipients exemplify MSU's commitment to the land-grant mission of teaching, research and outreach through their dedication to professional, community and/or MSU service.
Anyone may submit a nomination.
The award is presented at the annual alumni awards held in conjunction with Classes Without Quizzes.
Nominations not selected to receive the award are held for three years and automatically re-nominated each year.
Questions? Please contact Sara Ford via email or (517) 884-0290.
2022 Outstanding Alumni Award
JAMES D. HOESCHELE
Ph.D. Chemistry '69
James D. Hoeschele's impact on the world is one to which every Spartan aspires.
Hoeschele has been part of the Michigan State University community as a doctoral student, a research fellow, an assistant professor, a collaborative researcher and a major donor.
He first came to MSU in 1959 to pursue his doctorate degree in chemistry, working in the lab of Carl H. Brubaker, a professor in the College of Natural Science. Upon completing his Ph.D. in 1969, he took a position at Oak Ridge National Laboratory.
He returned to MSU in 1970 for an opportunity to work as a cancer research fellow in the lab of biophysics professor Barnett Rosenberg, who is credited with the discovery of the anti-cancer drug cisplatin, which was approved by the Food and Drug Administration (FDA) in 1978. This drug revolutionized the treatment of certain cancers—especially testicular, bladder, lung, and stomach cancers—and saved countless lives. In that lab, Hoeschele not only helped develop cisplatin, but also co-invented another successful anti-cancer drug—carboplatin—which was approved by the FDA in 1989. Jim was also the visionary behind the 40th anniversary celebration of the FDA approval of cisplatin held in 2018 (https://www.chemistry.msu.edu/cisplatin/).
The royalties from cisplatin created the MSU Foundation in 1973; the foundation has awarded more than $350 million back to MSU for grants, research, technology development and scholarly endeavors.
Between 1972 and 1994, Hoeschele held various positions—in industry, pharmaceuticals and academia—before he returned to MSU, where he taught general chemistry to non-majors and supervised undergraduate researchers until 2009. In 2010, after he "retired" from MSU, he became an adjunct professor at Eastern Michigan University.
Over a two-year period in his "free time," Hoeschele singlehandedly organized Rosenberg's papers for the MSU Archives.
Hoeschele believes in the power of research and has been an evaluator, donor and champion of the NatSci Dean's Research Scholars program in which certain undergraduate researchers—who excel at communicating about their work in layperson's terms—are selected to be ambassadors for the college.
Hoeschele's love of chemistry has saved countless lives and positively impacted hundreds of young minds through his teaching, mentoring and philanthropic support.
Past Recipients
2021 - Patrick Lukulay, Ph.D. Analytical Chemistry '95
2020 - Claudia Turro, B.S. Chemistry '87, Ph.D. Chemistry '92
2019 - Marilyn Capelli Dimitroff, B.S. Mathematics '66
2018 - Craig Roy, Ph.D., B.S. Microbiology '85
2017 - John Woollam, M.S., Physics '63; Ph.D., Physics '67
2016 - Patrick Smith, Chemistry '72; M.S., Chemistry '77; Ph.D., Chemistry '78
2015 - Damian Handzy, Physics '95
2014 - Joseph Caruso, Chemistry '51
2013 – Henry Edelhauser, Physiology '64 & '66
2012 – Bobby Wilson, Chemistry '76
2011 – Eric Ayers, Microbiology '85
2010 – Azam Niroomand-Rad, Physics '71 & '78
2009 – Susan Sylvester, Entomology '78
2008 – Kenneth Yerrick, Chemistry '59 & '61
2007 – Stephen Warren, Zoology '76 & Genetics '81
2006 – Mark Ehlert, Microbiology '75
2005 – Michael Donoghue, Botany '75
2004 – Eugene Parker, Physics '48
2003 – Mary Ruth Dawson, Zoology '52
2002 – Daniel Edson, Clinical Lab Science '79
2001 – Phaedon Avouris, Chemistry '74
2000 – Jack Samarias, Statistics '70
1999 – Paul O'Connor, Chemistry '91
1998 – Richard & Shirley Pendell, Bio Science '35
1997 – Durward L. Allen, Zoology '37
1996 – B.L.S. Prakasa Rao, Statistics '66
1995 – Robert Martin, Medical Technology '71
1994 – Lorenz Kull, Physics '67
1993 – Joseph Longo, Physics '66 & '68
1992 – Paul Ts'o, Botany & Plant Pathology '51
1991 – Karen Klomparens, Botany & Plant Pathology '72 & '77
1990 – Jerry Cowen, Physics '50 & '54
1989 – Harley Hotchkiss, Geology '51
1988 – Gordon Guyer, Entomology '53
1987 – Charles Vincent, Chemistry '54
1986 – Reardon Campeau, Mathematics '65
1985 – Ritchie Wessling, Chemistry '57
1985 – Susan Crispin, Botany & Plant Pathology '78 & '80
1984 – Ron Goldsberry, Chemistry '66 & '69
1983 – Michael Schulz, Physical Science '64
1982 – Thomas Jamieson, Bio Science '65
1981 – James Orbison, Chemistry '39
1980 – Eldon Foltz, Chemistry '41