Outstanding Alumni Award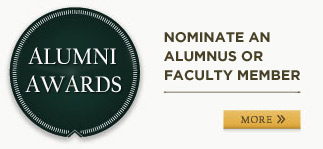 The Outstanding Alumni Award recognizes alumni for outstanding professional achievement and support of the college or university. Recipients exemplify MSU's commitment to the land-grant mission of teaching, research and outreach through their dedication to professional, community and/or MSU service.
Anyone may submit a nomination.
The award is presented at the annual alumni awards held in conjunction with Classes Without Quizzes.
Nominations not selected to receive the award are held for three years and automatically re-nominated each year.
Questions? Please contact Sara Ford via email or (517) 884-0290.
2018 Outstanding Alumni Award
Craig Roy, Ph.D.
B.S. Microbiology '85
Craig Russell Roy, a professor and vice chair of the Department of Microbial Pathogenesis at Yale University, is recognized around the world for his work in investigating the mechanisms by which bacterial pathogens alter key host functions to cause disease. His studies focus on Legionnaire's disease and Q fever, and the microbes that cause them.
His research has not only contributed to a much clearer understanding of how pathogens work, but he has also illuminated basic cellular processes within host cells.
Roy's work is supported by multiple, competitively funded National Institutes of Health research grants, including a coveted MERIT renewal award. In 2007, he was awarded the Eli Lilly and Company Award, the most prestigious recognition made each year to a single researcher by the American Society for Microbiology.
Since 2007, Roy has given well over 100 invited lectures—including many named lectures—at universities and conferences around the world. He has published more than 75 papers in high-profile journals such as Science, Nature, Proceedings of the National Academy of Sciences and others.
In addition to his exceptional research productivity, he has trained dozens of graduate students and postdoctoral fellows who are now carrying out research in institutions around the world, including at prestigious universities such as Imperial College (London), the University of Pennsylvania and the University of Osaka (Japan).
Roy gives back generously to his field through service as an editor for a number of journals and as an organizer of meetings and conferences. His service as a member of NIH Study Sections recognizes both his leadership as well as his engagement in the scientific community. This is particularly so for his current work on the Microbiology and Infectious Diseases Study Section, which reviews
applications to support junior researchers just beginning their independent careers, and institutional training grants to support graduate students and postdoctoral fellows. He is giving his time and expertise to his colleagues and to the next generation of scientists.
Past Recipients
1980 – Eldon Foltz, Chemistry '41
1981 – James Orbison, Chemistry '39
1982 – Thomas Jamieson, Bio Science '65
1983 – Michael Schulz, Physical Science '64
1984 – Ron Goldsberry, Chemistry '66 & '69
1985 – Susan Crispin, Botany & Plant Pathology '78 & '80
1985 – Ritchie Wessling, Chemistry '57
1986 – Reardon Campeau, Mathematics '65
1987 – Charles Vincent, Chemistry '54
1988 – Gordon Guyer, Entomology '53
1989 – Harley Hotchkiss, Geology '51
1990 – Jerry Cowen, Physics '50 & '54
1991 – Karen Klomparens, Botany & Plant Pathology '72 & '77
1992 – Paul Ts'o, Botany & Plant Pathology '51
1993 – Joseph Longo, Physics '66 & '68
1994 – Lorenz Kull, Physics '67
1995 – Robert Martin, Medical Technology '71
1996 – B.L.S. Prakasa Rao, Statistics '66
1997 – Durward L. Allen, Zoology '37
1998 – Richard & Shirley Pendell, Bio Science '35
1999 – Paul O'Connor, Chemistry '91
2000 – Jack Samarias, Statistics '70
2001 – Phaedon Avouris, Chemistry '74
2002 – Daniel Edson, Clinical Lab Science '79
2003 – Mary Ruth Dawson, Zoology '52
2004 – Eugene Parker, Physics '48
2005 – Michael Donoghue, Botany '75
2006 – Mark Ehlert, Microbiology '75
2007 – Stephen Warren, Zoology '76 & Genetics '81
2008 – Kenneth Yerrick, Chemistry '59 & '61
2009 – Susan Sylvester, Entomology '78
2010 – Azam Niroomand-Rad, Physics '71 & '78
2011 – Eric Ayers, Microbiology '85
2012 – Bobby Wilson, Chemistry '76
2013 – Henry Edelhauser, Physiology '64 & '66
2014 - Joseph Caruso, Chemistry '51
2015 - Damian Handzy, Physics '95
2016 - Patrick Smith, Chemistry '72; M.S., Chemistry '77; Ph.D., Chemistry '78
2017 - John Woollam, M.S., Physics '63; Ph.D., Physics '67