Outstanding Alumni Award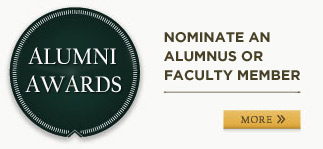 The Outstanding Alumni Award recognizes alumni for outstanding professional achievement and support of the college or university. Recipients exemplify MSU's commitment to the land-grant mission of teaching, research and outreach through their dedication to professional, community and/or MSU service.
Anyone may submit a nomination.
The award is presented at the annual alumni awards held in conjunction with Classes Without Quizzes.
Nominations not selected to receive the award are held for three years and automatically re-nominated each year.
Questions? Please contact Sara Ford via email or (517) 884-0290.
2019 Outstanding Alumni Award
Marilyn Capelli Dimitroff
B.S. Mathematics '66
Marilyn Capelli Dimitroff, CFP®, has excelled as a teacher, financial planner and business owner. Her tenacity, client-centered attitude and skill are evident in everything she does. Her records of
accomplishment and personal conduct have reflected positively on MSU for decades.

Dimitroff is principal and director of wealth management for Planning Alternatives, a financial services firm in Bloomfield Hills, Mich. She founded Chicago-area Forest Financial in 1982—one of the first women-owned financial firms—and Michigan's Capelli Financial Services in 1994, serving as president until merging with Planning Alternatives in 2013.

She was one of the first women to have a major role in the financial planning profession. She led the 2007 task force that imposed the Fiduciary Standard on CFP® Certificants when providing financial planning to clients. In 2009, she chaired the national board of directors of the Certified Financial Planner Board of Standards and served on the international board.

Her accomplishments have been recognized by many awards. Her firm received the 2016 Schwab Trail Blazer Award in recognition of significant industry contribution and innovation. Dimitroff has been quoted in the Wall Street Journal, The New York Times and Forbes, among others, and has regularly provided commentary on television and radio. She also co-authored the book The Invincibility Shield for Investors.

Since 2015, she has served as a contributor to the Center for Financial Planning, a Washington, D.C., nonprofit committed to improving financial well-being in underserved populations by increasing the number of women, minorities and ethnic groups who attain CFP® certification.

Dimitroff has been a lifelong ambassador for her alma mater—from assisting the MSU Department of Finance with developing a financial planning curriculum, to serving as a College of Natural Science volunteer for the Empower Extraordinary Capital Campaign. In 2010, she established the Boris N. and Marilyn C. Dimitroff Spartan Scholarship Challenge Endowment to support undergraduate students.

She has used her training at MSU to reach the highest levels in her profession. Now, she is closing her career with the knowledge that she has touched the lives of thousands of individuals, making the
lives of each a bit better.
Past Recipients
1980 – Eldon Foltz, Chemistry '41
1981 – James Orbison, Chemistry '39
1982 – Thomas Jamieson, Bio Science '65
1983 – Michael Schulz, Physical Science '64
1984 – Ron Goldsberry, Chemistry '66 & '69
1985 – Susan Crispin, Botany & Plant Pathology '78 & '80
1985 – Ritchie Wessling, Chemistry '57
1986 – Reardon Campeau, Mathematics '65
1987 – Charles Vincent, Chemistry '54
1988 – Gordon Guyer, Entomology '53
1989 – Harley Hotchkiss, Geology '51
1990 – Jerry Cowen, Physics '50 & '54
1991 – Karen Klomparens, Botany & Plant Pathology '72 & '77
1992 – Paul Ts'o, Botany & Plant Pathology '51
1993 – Joseph Longo, Physics '66 & '68
1994 – Lorenz Kull, Physics '67
1995 – Robert Martin, Medical Technology '71
1996 – B.L.S. Prakasa Rao, Statistics '66
1997 – Durward L. Allen, Zoology '37
1998 – Richard & Shirley Pendell, Bio Science '35
1999 – Paul O'Connor, Chemistry '91
2000 – Jack Samarias, Statistics '70
2001 – Phaedon Avouris, Chemistry '74
2002 – Daniel Edson, Clinical Lab Science '79
2003 – Mary Ruth Dawson, Zoology '52
2004 – Eugene Parker, Physics '48
2005 – Michael Donoghue, Botany '75
2006 – Mark Ehlert, Microbiology '75
2007 – Stephen Warren, Zoology '76 & Genetics '81
2008 – Kenneth Yerrick, Chemistry '59 & '61
2009 – Susan Sylvester, Entomology '78
2010 – Azam Niroomand-Rad, Physics '71 & '78
2011 – Eric Ayers, Microbiology '85
2012 – Bobby Wilson, Chemistry '76
2013 – Henry Edelhauser, Physiology '64 & '66
2014 - Joseph Caruso, Chemistry '51
2015 - Damian Handzy, Physics '95
2016 - Patrick Smith, Chemistry '72; M.S., Chemistry '77; Ph.D., Chemistry '78
2017 - John Woollam, M.S., Physics '63; Ph.D., Physics '67
2018 - Craig Roy, Ph.D., B.S. Microbiology '85