Recent Alumni Award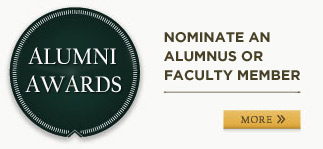 The Recent Alumni Award recognizes alumni who have graduated within the last 15 years and have shown outstanding professional growth. Recipients exemplify MSU's commitment to the land-grant mission of teaching, research and outreach through their dedication to professional, community and/or MSU service.
Anyone may submit a nomination.
The award is presented at the annual alumni awards held in conjunction with Classes Without Quizzes.
Nominations not selected to receive the award are held for three years and automatically re-nominated each year.
Questions? Please contact Sara Ford via email or (517) 884-0290.
2019 Recent Alumni Award
Eeda Marie Wallbank
B.S. Environmental Biology and Botany '05
Eeda Marie Wallbank's entire scientific career has been about leaving the world a little bit better than how she found it. That's a good thing, because when she arrives at her job, sometimes things are literally on fire, train cars are exploding one by one like dominoes or poison chemicals are leaching
into a nearby river.

Her career is the very definition of Go Green. An environmental scientist with 10 years of experience, she specializes in hazardous materials emergency responses and the restoration of Superfund sites, brownfields and federal properties.

After earning her bachelor's degree from MSU, Wallbank was hired as a quality control technician by Neogen Corp. in Lansing, Mich. In 2008, she moved to Baltimore, Md., to take a job with Shaw
Environmental and Infrastructure as an environmental scientist.

In 2013, Wallbank was hired by Arcadis, a multinational consulting company located in Maryland. She manages projects ranging from emergency responses, to ongoing cleanups/remediation, to health
and safety for a variety of clients including major integrated oil companies, medical/pharmaceuticals firms, and the U.S. Department of Defense. "I fell in love with science when I fell into [a] river," Wallbank said, referring to her story about a science field trip when she was in the 7th grade. Now, she wants to ensure that other young women have the opportunity to fall in love with science. Wallbank has a heart for mentoring women in the hard sciences and supporting young alumni. She is a mentor to many, and when she sees problems, she acts. She is a member of the Association for Women in Science (AWIS) and a recent past member of the board of the organization's Washington, D.C., chapter. At AWIS, Wallbank helped start a mentoring program for young scientists, linking emerging women scientists with mentors in their fields to help them navigate the start of their professional lives. She is also an active member of the D.C. Spartans—the MSU alumni group in the Washington, D.C., area.
Past Recipients
2003 – Carl Bruch, Physics '96
2005 – Wakeshi Benson, Chemistry '96
2008 – Brian Langley, Chemistry '99
2010 – Dan Mindiola, Chemistry '96
2012 – Li Fan, Biochemistry '00
2013 – Sasha Fawaz, Zoology and Psychology '08
2014 - Karen Wayland, Ph.D. Environmental Geosciences and Resource Development '01
2015 - Jennifer Schomaker, Ph.D. Chemistry '06
2016 - Chelsea Walton, Ph.D. Mathematics '05
2017 - Jason Pratt, B.S. Microbiology and Molecular Genetics '05
2018 - Paul Thomas, M.D., B.S. Human Biology '09