Recent Alumni Award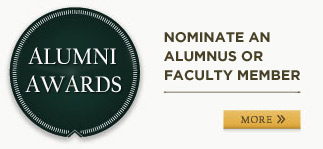 The Recent Alumni Award recognizes alumni who have graduated within the last 15 years and have shown outstanding professional growth. Recipients exemplify MSU's commitment to the land-grant mission of teaching, research and outreach through their dedication to professional, community and/or MSU service.
Anyone may submit a nomination.
The award is presented at the annual alumni awards held in conjunction with Classes Without Quizzes.
Nominations not selected to receive the award are held for three years and automatically re-nominated each year.
Questions? Please contact Sara Ford via email or (517) 884-0290.
2018 Recent Alumni Award
Paul Thomas, M.D.
B.S. Human Biology '09
Dr. Paul Thomas had always dreamed of becoming a community doctor. The kind of doctor that would make house calls, the kind of doctor you could call on in the middle of the night.

He is now living that dream. A direct primary care physician, he serves patients through his private practice—Plum Health DPC in Dearborn, Mich. His philosophy is to deliver high-quality service to his patients while giving back to the community.

His practice is based on the direct primary care (DPC) model—which provides a full range of comprehensive primary services to patients in exchange for a flat fee that is typically billed monthly. DPC allows for more one-on-one time with the doctor, greater responsiveness to a patient's needs and a restoration of the doctor-patient relationship. Dr. Thomas is available at all times and his patients
are able to contact him directly through text, e-mail or phone calls.

Outside of seeing patients and managing their medical needs, Dr. Thomas is active in the community and at Wayne State University medical school, where he is a clinical assistant professor. He teaches a small group course at Wayne State to first-year medical students, and lectures frequently about DPC.
He also gives a Welcome to Detroit lecture at the beginning of each medical school year, and this past year presented a keynote speech at the White Coat Ceremony for the class of 2021. He is also working with local businesses to provide health care to their employees.

Dr. Thomas is a board member for Rock CF, an organization that raises awareness for cystic fibrosis and empowers those with the disease to live a more happy and healthy life. Dr. Thomas is an invited speaker at the Michigan Academy of Family Physicians Conference and Expo where he will be presenting on direct primary care, and at the American Academy of Family Physicians DPC Summit, where he will be presenting on branding and marketing for DPC practices. One of his passions is to help other physicians transition into the DPC model of care.
Past Recipients
2003 – Carl Bruch, Physics '96
2005 – Wakeshi Benson, Chemistry '96
2008 – Brian Langley, Chemistry '99
2010 – Dan Mindiola, Chemistry '96
2012 – Li Fan, Biochemistry '00
2013 – Sasha Fawaz, Zoology and Psychology '08
2014 - Karen Wayland, Ph.D. Environmental Geosciences and Resource Development '01
2015 - Jennifer Schomaker, Ph.D. Chemistry '06
2016 - Chelsea Walton, Ph.D. Mathematics '05
2017 - Jason Pratt, B.S. Microbiology and Molecular Genetics '05