Tracy Hammer Graduate Student Award for Professional Development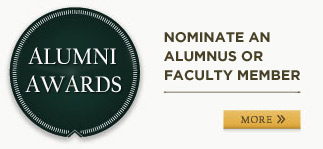 The Tracy A. Hammer Graduate Student Award for Professional Development is presented to an outstanding graduate student in support of their professional development. Nominees must be pursuing a degree in the College of Natural Science
Faculty and students may submit a nomination.
The award is presented at the annual alumni awards held in conjunction with Classes Without Quizzes.
The award was renamed in 1996 to memorialize 1995 co-recipient Tracy Anne Hammer. A native of New York, Hammer was the first dual degree candidate to pursue a doctoral degree in animal genetics through the Department of Microbiology and Veterinary Medicine. Her research centered on canine dilated cardiomyopathy. Hammer died in a plane crash shortly before graduation and her degree was awarded posthumously.
The Tracy A. Hammer award recipients receive a one-time stipend of $750 funded by the NatSci AA Endowed Scholarship Fund. Your gift to this fund will enable the College of Natural Science to grow the scholarship amount granted to future award winners.
Questions? Please contact Sara Ford via
email
or (517) 884-0290.
2022 Tracy A. Hammer Graduate Student Awards
DANIEL PUENTES
Physics
Daniel Puentes has been immersed in research with the Low Energy Beam and Ion Trap (LEBIT) group since he was first accepted into the physics Ph.D. program at MSU. His thesis is developed in two areas: a high-precision mass measurement of 24Si for nuclear astrophysics studies, and the development of a gas cell dedicated to fragmenting incoming low-energy molecular ion beams.
He is now in the final stages of using the new mass measurement in astrophysical simulations, which will be published in Physical Review C.
Puentes and the research team have also been working to characterize silicon nitride membranes that will serve as the entrance of a gas cell prototype. This unique project could contribute to measurement campaigns performed by LEBIT and other researchers at the Facility for Rare Isotope Beams. The gas cell will be tested with stable molecular ions and demonstrated by the end of summer 2022.
Outside of the laboratory, Puentes is a dedicated science communicator. He founded and co-hosts a science podcast—The Sci Files— supported by the student-based radio station WDBM-FM (Impact 89FM). His voice has been heard worldwide as he shares the stories of student research at MSU to make science more accessible to the layperson. He also founded the Michigan State University SciComm, a student-run organization whose mission is to empower students and young professionals to communicate complex scientific topics in clear and engaging ways.
Puentes is a 2021-2022 Leadership Development Fellow in MSU's Graduate School; and the Diversity, Equity and Inclusion Coordinator for Impact 89FM. He also worked with the City of East Lansing to commission art that he painted in Valley Court Park, sharing his passion for science with the rest of the community.
He expects to complete his Ph.D. in December 2022. This award stipend will support his trip to present his research at the Early Career Conference in Trapped Ions at CERN, Switzerland—his first international conference.
ANA-MARIA RAICU
Cell and Molecular Biology
Ana-Maria Raicu has made outstanding contributions in research, teaching and service at the university and national levels.
Her research focuses on eukaryotic gene regulation using molecular biological and evolutionary approaches to understand the function of deeply conserved transcriptional regulators. She developed her own project from the ground up, generating molecular and genetic reagents, and developing assays that assess function at the molecular and whole-organism level. These studies have involved developing expertise in diverse fields including genetics, molecular biology, and computational and evolutionary biology.
She was awarded a prestigious NIH F31 pre-doctoral grant, which funds her work from 2021 to 2023. She has also received funding from the MSU BEACON Center, COGS, the Cell and Molecular Biology Program, and Cayman Scientific in Ann Arbor. Most recently, she has been selected to speak at the 2022 Annual Drosophila Research Conference in San Diego, the main venue for all Drosophila researchers.
Raicu has also demonstrated a natural talent for connecting with her students; she has an ability to tailor her lectures to the audience, and a knack for developing innovative study questions. She received the Outstanding Graduate Student Teaching Award in 2020 from MSU's Department of Biochemistry and Molecular Biology.
She has mentored more than 20 junior students in the lab, and several others through the Graduate Women in Science organization. Her undergraduate mentees have flourished under her direct tutelage, reaching their potential (co-authorships on papers, presenting posters, receiving awards) as they learn about basic research at her bench.
Raicu is on track to complete her Ph.D. in the 2022-2023 academic year. This award stipend will cover her travel and registration fees this summer to attend the 81st Annual Society for Developmental Biology Conference in Vancouver (held in conjunction with the 4th biennial meeting of the Pan-American Society for Evolutionary Developmental Biology).
Past Recipients
2021 - Patricia Perez-Bonilla, Neuroscience and Pharmacology/Toxicology and Keenan Noyes, Chemistry
2020 - Sean L. Nguyen Cell and Molecular Biology and Environmental Toxicology and Ilias Magoulas Theoretical and Computational Chemistry
2019 - David Bowersm Program in Mathematics Education (PRIME) and Caitlin Kara Kirby, Earth and Environmental Science and Environmental Science and Policy
2018 - Oyemolade Osibodu, Program in Mathematics Education (PRIME) and Visala Rani Satyam, Program in Mathematics Education (PRIME)
2017 - Connie Rojas, Integrative Biology and Ecology
2016 - Paula Gajewski, Genetics Program and Patricia Jaimes Department of Geological Sciences
2015 - Jie Li, Biochemistry & Molecular Biology and Elizabeth Schultheis, Plant Biology
2014 - Kumar Ashtekar, Chemistry
2013 – Alexandria Theakston Musselman, Program in Mathematics Education and Emily Weigel, Zoology
2012 – Arvind Jaganathan, Chemistry
2011 – Tomomi Suwa, Plant Biology
2010 – Samuel Pappas, Physiology and Sarah Heim, Physics & Astronomy
2009 – Kimberly Cervello, Science and Mathematics Education and David Duriancik, Food Science & Human Nutrition
2008 – Ed Kabara, Biochemistry & Molecular Biology and Jaime Kopper, Cell & Molecular Biology Program
2007 – Rashad Simmons, Chemistry
2006 – Ellen Wilch, Genetics Program
2005 – Melissa Meaney, Chemistry
2004 – Anne Fischer, Chemistry
2003 – Emil Bozin, Physics & Astronomy
2002 – Shannon Haymond, Chemistry and Shibani Mukherjee, Microbiology & Molecular Genetics
2000 – Micah Stowe, Chemistry
1999 – Thomas A. Cullen, Chemistry
1998 – Mark A. Waner, Chemistry
1997 – Matthew Gardner, Chemistry and Vaughn Wagner, Zoology
1996 – Eleny-Nicoleta Ionel, Mathematics and Tedi Draghici, Mathematics
1995 – Jose de Ondarza, Physiology and Tracy A. Hammer, Microbiology and Veterinary Medicine
1994 – Nancy S. Barta, Chemistry
1993 – Philip Schultz, Chemistry