Tracy Hammer Graduate Student Award for Professional Development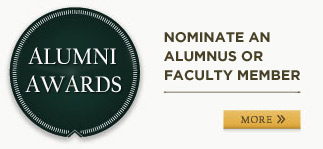 The Tracy A. Hammer Graduate Student Award for Professional Development is presented to an outstanding graduate student in support of their professional development. Nominees must be pursuing a degree in the College of Natural Science
Faculty and students may submit a nomination.
The award is presented at the annual alumni awards held in conjunction with Classes Without Quizzes.
The award was renamed in 1996 to memorialize 1995 co-recipient Tracy Anne Hammer. A native of New York, Hammer was the first dual degree candidate to pursue a doctoral degree in animal genetics through the Department of Microbiology and Veterinary Medicine. Her research centered on canine dilated cardiomyopathy. Hammer died in a plane crash shortly before graduation and her degree was awarded posthumously.
The Tracy A. Hammer award recipients receive a one-time stipend of $750 funded by the NatSci AA Endowed Scholarship Fund. Your gift to this fund will enable the College of Natural Science to grow the scholarship amount granted to future award winners.
Questions? Please contact Sara Ford via
email
or (517) 884-0290.
2023 Tracy A. Hammer Graduate Student Awards
JOSHUA KASTE
Biochemistry and Molecular Biology
Joshua Kaste continues to earn top grades while fulfilling the course requirements for BMB, as well as
two additional training programs—the NSF-IMPACTS program in computational plant biology, and the NIHfunded Plant Biotechnology for Health and Sustainability (PBHS). He demonstrates a creative flair in addressing issues ranging from metabolic engineering, to evolutionary patterns of gene expression, to metabolic flux analysis, to integrating metabolic modeling and omic datasets to accurately predict
metabolic fluxes in whole plants. His ultimate goal is to inform the engineering of plants for sustainable
biosynthesis of biofuel and high-value products.
After earning his B.S. in plant sciences, summa cum laude, from Cornell University in 2016, Kaste was
the supervisor of an agricultural genomics lab for three years before coming to MSU. He developed
assays in collaboration with the USDA and worked with large-scale plant and animal breeding groups to provide high-quality, fast-turnaround genotypic data via microarray and next-generation sequencing
platforms. He has been a first author or co-first author on several papers. In addition to his stellar academic and research progress, he is dedicated to the education and professional development of others. He has played leadership roles in the IMPACTS and PBHS programs, helping to organize and run their symposia; and he has played a major part in bringing a bioinformatics class project on topological data analysis to completion for publication. Most remarkably, he developed a complete set of hands-on computer-aided exercises for exploring the concepts and practice of metabolic flux analysis for an intensive workshop for Ph.D. students and postdocs that he co-taught in May 2022.
This award stipend will help defray expenses for Kaste to attend and present his work at a scientific
conference. He expects to complete his Ph.D. in 2024.
Past Recipients
2022 - Daniel Puentes, Physics and Ana-Maria Raicu, Cell and Molecular Biology Program
2021 - Patricia Perez-Bonilla, Neuroscience and Pharmacology/Toxicology and Keenan Noyes, Chemistry
2020 - Sean L. Nguyen Cell and Molecular Biology and Environmental Toxicology and Ilias Magoulas Theoretical and Computational Chemistry
2019 - David Bowersm Program in Mathematics Education (PRIME) and Caitlin Kara Kirby, Earth and Environmental Science and Environmental Science and Policy
2018 - Oyemolade Osibodu, Program in Mathematics Education (PRIME) and Visala Rani Satyam, Program in Mathematics Education (PRIME)
2017 - Connie Rojas, Integrative Biology and Ecology
2016 - Paula Gajewski, Genetics Program and Patricia Jaimes Department of Geological Sciences
2015 - Jie Li, Biochemistry & Molecular Biology and Elizabeth Schultheis, Plant Biology
2014 - Kumar Ashtekar, Chemistry
2013 – Alexandria Theakston Musselman, Program in Mathematics Education and Emily Weigel, Zoology
2012 – Arvind Jaganathan, Chemistry
2011 – Tomomi Suwa, Plant Biology
2010 – Samuel Pappas, Physiology and Sarah Heim, Physics & Astronomy
2009 – Kimberly Cervello, Science and Mathematics Education and David Duriancik, Food Science & Human Nutrition
2008 – Ed Kabara, Biochemistry & Molecular Biology and Jaime Kopper, Cell & Molecular Biology Program
2007 – Rashad Simmons, Chemistry
2006 – Ellen Wilch, Genetics Program
2005 – Melissa Meaney, Chemistry
2004 – Anne Fischer, Chemistry
2003 – Emil Bozin, Physics & Astronomy
2002 – Shannon Haymond, Chemistry and Shibani Mukherjee, Microbiology & Molecular Genetics
2000 – Micah Stowe, Chemistry
1999 – Thomas A. Cullen, Chemistry
1998 – Mark A. Waner, Chemistry
1997 – Matthew Gardner, Chemistry and Vaughn Wagner, Zoology
1996 – Eleny-Nicoleta Ionel, Mathematics and Tedi Draghici, Mathematics
1995 – Jose de Ondarza, Physiology and Tracy A. Hammer, Microbiology and Veterinary Medicine
1994 – Nancy S. Barta, Chemistry
1993 – Philip Schultz, Chemistry