Tracy Hammer Graduate Student Award for Professional Development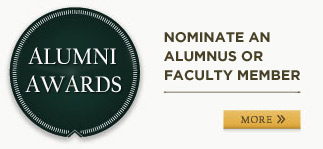 The Tracy A. Hammer Graduate Student Award for Professional Development is presented to an outstanding graduate student in support of their professional development. Nominees must be pursuing a degree in the College of Natural Science
Faculty and students may submit a nomination.
The award is presented at the annual alumni awards held in conjunction with Classes Without Quizzes.
The award was renamed in 1996 to memorialize 1995 co-recipient Tracy Anne Hammer. A native of New York, Hammer was the first dual degree candidate to pursue a doctoral degree in animal genetics through the Department of Microbiology and Veterinary Medicine. Her research centered on canine dilated cardiomyopathy. Hammer died in a plane crash shortly before graduation and her degree was awarded posthumously.
The Tracy A. Hammer award recipients receive a one-time stipend of $750 funded by the NatSci AA Endowed Scholarship Fund. Your gift to this fund will enable the College of Natural Science to grow the scholarship amount granted to future award winners.
Questions? Please contact Sara Ford via
email
or (517) 884-0290.
2018 Tracy A. Hammer Graduate Student Awards
Oyemolade Osibodu
Program in Mathematics Education (PRIME)
Oyemolade Osibodu has been recognized for her exemplary research work and her 4.0 GPA while at MSU. Her diligence has earned her accolades such as the College of Education Erickson Research Fellowship, the Program in Mathematics Education Lappan-Phillips-Fitzgerald Fellowship and the
2017 Marilyn Zweng Endowed Graduate Student Award in Mathematics Education.

Osibodu's research focuses on mathematics curriculum as a mechanism for social change, particularly in Africa. To this end, she has been involved in various research assistantships that allowed her to work on curriculum design projects, including the Connected Mathematics Project in MSU's mathematics department and the Tanzania Partnership Project. Additionally, she is a research
assistant on the Access, Agency, and Allies in Mathematical Systems Project.

Putting these skills into action, Osibodu taught a new content course in the mathematics department, Quantitative Literacy (MTH 102). For this course, she redesigned previous units to integrate a social justice component with mathematical goals. This project helped her develop the skills she needs to
design effective mathematics curriculum materials for her dissertation work.

In addition to her teaching and curriculum design projects, Osibodu has engaged in research related to her educational interests. She conducted an independent case study on aspects of critical mathematics education and disseminated her findings at the 2017 North American Chapter of the
Psychology of Mathematics Education National Conference. Additionally, she is currently analyzing data she collected with other researchers on the experiences of elementary students in mathematics classes. She is pushing herself to use new methods of analysis she has not previously employed in
other studies.

For her dissertation, Osibodu plans on conducting a much-needed study on teaching mathematics for social justice in a pan-African classroom in South Africa. She will use this award to help with her travel expenses.
Visala Rani Satyam
Program in Mathematics Education (PRIME)
Visala Rani Satyam has demonstrated strong potential for a career in research in post-secondary mathematics education. She is currently collecting and analyzing data for her dissertation project and will earn her doctoral degree in mathematics education this spring.

Since 2014, Satyam has taught extensively for the Department of Mathematics. She has taught math content courses for prospective elementary school teachers, has been the sole instructor for History of Mathematics (MTH 430) for the past two semesters, and has been a teaching assistant for Transitions to Proof (MTH 299).

Satyam has made substantial contributions to the Transition to Proof project, which carefully examines the work of mathematics majors and minors who complete MTH 299 and move into other proof-based classes. She has authored or co-authored multiple conference papers reporting the project's findings. She has also published in peer-reviewed journals such as the Journal of Humanistic
Mathematics and Mathematics in Michigan.

The MTH 299 course has become the basis for Satyam's innovative dissertation. She is in the final stages of work on her research, which focuses on the development of MTH 299 students' proof reasoning skills and emotional responses to solving challenging problems. She is examining what kinds of satisfying, positive experiences the students encounter and what factors elicit such moments. Her data comes from a series of four qualitative, task-based interviews with 11 undergraduate students over a semester. These interviews are designed to capture development in their thinking and emotional responses. The findings from Satyam's work will have direct applications to the future design of MSU's Transitions to Proof course, and will contribute to broader scientific knowledge by providing a potential model for how students learn to reason and have positive experiences with math.

Satyam received the 2017 Marilyn Zweng Endowed Graduate Student Award in Mathematics Education. She has recently accepted a faculty position in the Department of Mathematics at Virginia Commonwealth University, starting this fall. She will use this award to fund analysis of her dissertation data.
Past Recipients
1993 – Philip Schultz, Chemistry
1994 – Nancy S. Barta, Chemistry
1995 – Jose de Ondarza, Physiology and Tracy A. Hammer, Microbiology and Veterinary Medicine
1996 – Eleny-Nicoleta Ionel, Mathematics and Tedi Draghici, Mathematics
1997 – Matthew Gardner, Chemistry and Vaughn Wagner, Zoology
1998 – Mark A. Waner, Chemistry
1999 – Thomas A. Cullen, Chemistry
2000 – Micah Stowe, Chemistry
2002 – Shannon Haymond, Chemistry and Shibani Mukherjee, Microbiology & Molecular Genetics
2003 – Emil Bozin, Physics & Astronomy
2004 – Anne Fischer, Chemistry
2005 – Melissa Meaney, Chemistry
2006 – Ellen Wilch, Genetics Program
2007 – Rashad Simmons, Chemistry
2008 – Ed Kabara, Biochemistry & Molecular Biology and Jaime Kopper, Cell & Molecular Biology Program
2009 – Kimberly Cervello, Science and Mathematics Education and David Duriancik, Food Science & Human Nutrition
2010 – Samuel Pappas, Physiology and Sarah Heim, Physics & Astronomy
2011 – Tomomi Suwa, Plant Biology
2012 – Arvind Jaganathan, Chemistry
2013 – Alexandria Theakston Musselman, Program in Mathematics Education and Emily Weigel, Zoology
2014 - Kumar Ashtekar, Chemistry
2015 - Jie Li, Biochemistry & Molecular Biology and Elizabeth Schultheis, Plant Biology
2016 - Paula Gajewski, Genetics Program and Patricia Jaimes Department of Geological Sciences
2017 - Connie Rojas, Integrative Biology and Ecology