Tracy Hammer Graduate Student Award for Professional Development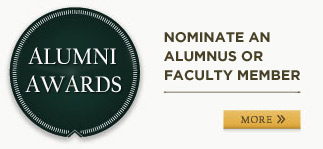 The Tracy A. Hammer Graduate Student Award for Professional Development is presented to an outstanding graduate student in support of their professional development. Nominees must be pursuing a degree in the College of Natural Science
Faculty and students may submit a nomination.
The award is presented at the annual alumni awards held in conjunction with Classes Without Quizzes.
The award was renamed in 1996 to memorialize 1995 co-recipient Tracy Anne Hammer. A native of New York, Hammer was the first dual degree candidate to pursue a doctoral degree in animal genetics through the Department of Microbiology and Veterinary Medicine. Her research centered on canine dilated cardiomyopathy. Hammer died in a plane crash shortly before graduation and her degree was awarded posthumously.
The Tracy A. Hammer award recipients receive a one-time stipend of $750 funded by the NatSci AA Endowed Scholarship Fund. Your gift to this fund will enable the College of Natural Science to grow the scholarship amount granted to future award winners.
Questions? Please contact Sara Ford via
email
or (517) 884-0290.
2019 Tracy A. Hammer Graduate Student Awards
David Bowers
Program in Mathematics Education (PRIME)
David Bowers has demonstrated exceptional growth during his three years as a doctoral student. Along with maintaining a 4.0 grade point average and devoting substantial attention to his wife and daughter (born two days prior to his first semester at MSU), he has developed his talent as an academic writer and speaker through a variety of international, national and local research conferences.

Perhaps most impressive about his academic work is the way he has incorporated what he has learned in coursework into his research agenda, integrating critical social, political and philosophical theories with his interests in teacher learning and teacher knowledge. In particular, he has explored questions related to race and whiteness, hegemony, and rhetoric and metaphor in mathematics education. He recently completed his practicum project, which focuses on how the field conceptualizes and categorizes prospective teachers' knowledge in mathematics content courses.

Bowers has worked as a graduate research assistant on the Connected Mathematics Project since his arrival at MSU, and was a lead instructor for the Elementary Mathematics for Teachers course. Additionally, he was a co-creator of the Teaching Future Clinicians video series for MSU's Office of Medical Education Research and Development. Most recently, his work was published in the Michigan Reading Journal, a testament to his efforts to speak and learn across disciplinary boundaries.

He is the recipient of three MSU honors—the Blake and Mary Kreuger Endowed University Distinguished Fellowship, the Fellowship to Enhance Global Understanding and the Marilyn Zweng Endowed Graduate Student Award. He was recently elected as a graduate student member of the Steering Committee for Psychology of Mathematics Education – North America, and is president of his doctoral program's Graduate Student Organization.

Bowers received his bachelor of science in mathematics (summa cum laude), his master's in education and his master's in mathematical sciences, all from The Ohio State University. He anticipates completing his Ph.D. in 2021. He will use his award stipend to support his travel to international conferences.
Caitlin Kara Kirby
Earth and Environmental Science and Environmental Science and Policy
Caitlin Kara Kirby already has a long history of academic and scientific accomplishment. This award will allow her to make an impact as a leading voice in environmental science.

Kirby earned her B.S. (with high honors) in environmental biology/microbiology from MSU (2013) and is now working on a dual Ph.D. degree. Her dissertation work focuses on building connections between environmental science and citizen action, with a focus on climate science. Her overarching career goal is to bridge the gap between science and public understanding, with the hope of impacting pro-environmental behaviors on both large and small scales. She has a deep understanding of the barriers to individual action, as well as the importance of congruity between the actions taken by individuals and the policies set by governments. Her international experience has included conducting research in Peru, Ecuador and Colombia; and volunteering on farms in Thailand, Bali and Australia.

Kirby has received numerous awards, grants and fellowships in recognition of her work and research. In her second year as a doctoral student, Kirby was awarded her first research grant from the Be Spartan Green Student Project Fund at MSU. Through this grant, she investigated college students' conceptions of and attitudes about climate change. Most recently, she received the prestigious MSU College of Natural Science 2018 Hensley Fellowship. She is also the recipient of a Scholarship of Undergraduate Teaching and Learning fellowship (2017-19) and a Graduate School Writing Fellow in the Disciplines (2018-19).

Early in 2019, Kirby published two first-authored papers and is a 2019 finalist for a Fulbright Fellowship in Germany.

She's a graduate assistant in the geocognition research laboratory and a teaching assistant in the geology human environment laboratory. She also serves as president of the Earth and Environmental Sciences Graduate Student Organization.

Kirby expects to complete her Ph.D. in 2020. She will use her award stipend to travel to professional conferences to present her work.
Past Recipients
1993 – Philip Schultz, Chemistry
1994 – Nancy S. Barta, Chemistry
1995 – Jose de Ondarza, Physiology and Tracy A. Hammer, Microbiology and Veterinary Medicine
1996 – Eleny-Nicoleta Ionel, Mathematics and Tedi Draghici, Mathematics
1997 – Matthew Gardner, Chemistry and Vaughn Wagner, Zoology
1998 – Mark A. Waner, Chemistry
1999 – Thomas A. Cullen, Chemistry
2000 – Micah Stowe, Chemistry
2002 – Shannon Haymond, Chemistry and Shibani Mukherjee, Microbiology & Molecular Genetics
2003 – Emil Bozin, Physics & Astronomy
2004 – Anne Fischer, Chemistry
2005 – Melissa Meaney, Chemistry
2006 – Ellen Wilch, Genetics Program
2007 – Rashad Simmons, Chemistry
2008 – Ed Kabara, Biochemistry & Molecular Biology and Jaime Kopper, Cell & Molecular Biology Program
2009 – Kimberly Cervello, Science and Mathematics Education and David Duriancik, Food Science & Human Nutrition
2010 – Samuel Pappas, Physiology and Sarah Heim, Physics & Astronomy
2011 – Tomomi Suwa, Plant Biology
2012 – Arvind Jaganathan, Chemistry
2013 – Alexandria Theakston Musselman, Program in Mathematics Education and Emily Weigel, Zoology
2014 - Kumar Ashtekar, Chemistry
2015 - Jie Li, Biochemistry & Molecular Biology and Elizabeth Schultheis, Plant Biology
2016 - Paula Gajewski, Genetics Program and Patricia Jaimes Department of Geological Sciences
2017 - Connie Rojas, Integrative Biology and Ecology
2018 - Oyemolade Osibodu, Program in Mathematics Education (PRIME) and Visala Rani Satyam, Program in Mathematics Education (PRIME)