Aaron Galonsky: International research cultivates great science, friendships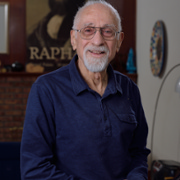 Travel abroad and international collaborative research have defined Aaron Galonsky's life. It's fitting, then, that one of his former graduate students recently established the Galonsky International Research Travel Award in his honor.Ironically, prior to 1955, Galonsky, now a retired MSU physics professor, had no desire and no reason to travel abroad.
"I had hitchhiked up to Canada once, but I never thought I'd go to Europe—or any other country," said Galonsky, who was born in Brooklyn, New York.
"One night in 1955, someone put a bug about the wonders of Europe in my wife's ear," he said. "We went by ship—which was about half the price of propeller air travel."
After earning his undergraduate degree in physics from Brooklyn College in 1950 and his Ph.D. in physics from the University of Wisconsin in 1954, Galonsky worked at Oak Ridge National Laboratory from 1954 to 1959, and in Wisconsin at the Midwestern Universities Research Association from 1959-1964. In 1964, drawn by the prospect of MSU's new cyclotron laboratory, Galonsky joined the MSU faculty. When Henry Blosser, the "father" of the laboratory took a leave, Galonsky served as the director.
In 1975, twenty years after Galonsky and his wife first went to Europe, Galonsky returned—this time by jet aircraft and with his entire family—for a sabbatical year in Germany at a nuclear research institute near Aachen. He worked with many fellow scientists that year and developed close friendships. One of the closest was Adam Kiss, a physicist from Hungary. In 1981, when each was back in his own country, they formed a collaborative program jointly supported by the Hungarian Academy of Sciences and the U.S. National Science Foundation. For the next decade there was a flow of nuclear physicists between Budapest and East Lansing. Each of Galonsky's graduate students had at least one chance to work in the Budapest laboratory.
He proudly recalls his students' impressive accomplishments. Two of his graduate students went on to become professors at major universities. Others are well known for their work at national laboratories, medical facilities and large corporations across the country and abroad.
One former graduate student, Don Sackett (M.S., physics, '89; Ph.D., physics, '92) who was especially influenced by Galonsky's role in his life, established the endowed travel award in his honor this year. Sackett founded and is currently CEO of SciAps Inc., a Boston-based company specializing in portable analytical instruments.
Recipients of the Galonsky endowment must be graduate students or postdocs in the Department of Physics and Astronomy who participate in a scientific experiment outside of the United States for at least one month—giving them the opportunity to build relationships with the international researchers, just as Galonsky did.
Galonsky retired from MSU in 2006.
"My life has been full of internationalism and it has passed on to my children and grandchildren," Galonsky said, noting that one of his granddaughters works for Google in Munich, Germany, and speaks Japanese when in Japan.
"My intent for this travel award is for others to have overseas research experiences, which result in great science and friendships," he added.
Published January 14, 2020