Alice Greene: Paying it forward -- The value of higher education and research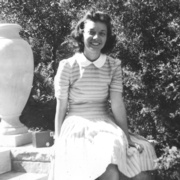 As Alice Greene sat outside Yakeley Hall in June 1942, at the end of her freshman year at Michigan State College, it probably didn't occur to her that she would have an impact on future generations of MSU students.
Thanks to her daughters Martha Rykala (B.S. mathematics, Honors College, '75) and Susan Avery (B.S. physics, Honors College, '72), along with Susan's husband, Jim Avery (B.S. computer science, Honors College, '72), she will be making a difference in the lives of many MSU microbiology students for years to come. In October 2015, the three established the Theodore P. and Alice J. Rykala Scholarship Fund for Microbiology in honor of the Rykalas' firm belief in higher education and the value of research.
"My parents valued higher education and were always there supporting us, and making us go forward," Susan said.
"We have such a strong family connection at MSU," Martha said. "The time I spent at MSU was certainly an enjoyable time in my life. Our parents felt that education was very important. I was grateful, especially in later life, that they were able to give that to me."
Alice, who hailed from Detroit, attended MSU during the war years. She was one of the first woman to graduate with a degree in bacteriology. She also published two papers. She met her future husband—Theodore (Ted)—at MSU, after he returned from the war. They married in 1947. She continued to work as an MSU research technician, studying bacterial colonies in cattle, until her husband completed his master's degree in electrical engineering and took a job in Detroit. Ted spent his entire career as a communications engineer for Michigan Consolidated Gas Company and was instrumental in the development of the Alaska pipeline, which was built between 1974 and 1977.
Following in the research and technology footprints of their parents, Martha is the owner of Infrared Industries, a small business in California that manufactures gas analyzer instrumentation. Susan is professor emerita, University of Colorado–Boulder, and president emerita, Woods Hole Oceanographic Institution. Jim is professor emeritus of electrical engineering, University of Colorado–Boulder, and is currently teaching several online courses for the University of Maryland University College.
"Our mom sacrificed a lot in terms of the family. She could have gone off and had a career; she was very intelligent. But when she got married, she gave a lot of that up to raise a family, as was expected in those days," Martha said.
The establishment of the scholarship fund will provide a way for Alice to continue her contribution to her field. Scholarship recipients will be selected by the department, and will be determined by a competitive process that includes financial need.
Martha and Susan are considering the possibility of offering scholarships in their father's discipline—electrical engineering—in the future.
"I hope that others who have benefited from a degree at Michigan State think about giving back to the next generation. I think it's so important to do so," Susan said.
"I can't stress enough the importance of an education," Martha said. "As life goes on, you're going to run into a lot of politics, you're going to run into a lot of things unfair in life. But the one thing that no one can ever take from you is your education and your knowledge."