Andrew Baker: Finding the secret to a successful life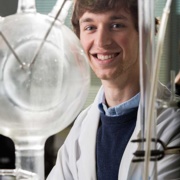 It seems as though Andrew Baker has found the secret to a successful life. He is an outstanding student, a dynamic researcher . . . and a humanitarian.
This well-rounded biochemistry and molecular biology senior has worked in the lab of Robert Root-Bernstein, professor of physiology, for three years. He is also a leader in the Multi-Racial Unity Living Experience & Intercultural Aide Program (MRULE/ICA)—a program that helps freshmen and international students transition into college.
In the lab, he works alongside Root-Bernstein on origins-of-life research—specifically, tracing the evolution of the building blocks of life.
Baker said it's the "sense of wonder," and "finding the secret to life," that got him—and keeps him—interested in the work in Root-Bernstein's lab.
Root-Bernstein said, "I 'discovered' Drew by using the clever technique of asking my professorial assistant, Tyler Rhinesmith, to find me a fellow student as clever, independent and hardworking as himself. Tyler suggested Drew. I call the two my 'Dynamic Duo' since they've basically taken over the analytical work related to my origins-of-life research. Drew, in particular, is trying to prove that we've made some of the nucleic acids simultaneously with sugars and amino acids. It's a very tough problem, which he's doing a great job of cracking!"
Baker has also been involved with ReBioGeneSys – Origins of Life, a hybrid installation by MSU artist and associate professor Adam W. Brown, with Root-Bernstein as scientific collaborator. Their influence inspired Baker to enroll in Brown's art class, in which students use digital tools to make art, 3D printed sculptures and similar things.
"The arts' supportive role in science has been a large area of study for Dr. Root-Bernstein and his wife [they have written a book on the subject],"Baker said. "This is one reason I enjoy working with him and Adam—and in science. I did a lot of art in high school, then left it to pursue science; now art has found me again!"
As an intercultural aide, Baker mentors students in the Charles Drew Science Scholars program, which provides academic and social support for high-achieving students from diverse backgrounds who are pursuing science and math degrees.
Baker also wants to instill in the students the importance of pursuing humanitarian activities.
"We try to get students to think about their community," Baker said. "We try to get them to think as global citizens."
Last fall, he took a group of students from the residence hall program to work at a Lansing-area community garden.
"Our work last semester was to expand the garden so they can feed more people," Baker said. "They now have a garden that can support ten more families."
The expanded garden is expected to feed a total of 30 of the community's families this year.
In 2014, Baker received a Pamela J. Fraker Undergraduate Scholarship, which is awarded to students who demonstrate the initiative and capacity to achieve education and professional goals. He also received a College of Natural Science Undergraduate Summer Research Scholarship in 2014, in support of his work in Root-Bernstein's lab.
The Flushing, Mich., native will graduate in May and intends to continue his research in the MSU lab over the summer. Future plans include graduate school.
For more about the Origins of Life art installment, visit http://adamwbrown.net/projects-2/origins-of-life-experiment-1/.