Apryl Pooley: Moving forward – Recovery opens new doors for researcher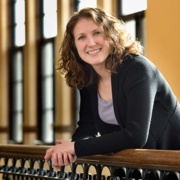 The road to the future is often a twisted path. It's something Apryl Pooley knows well. The fourth-year Ph.D. student in the MSU Neuroscience Program is researching the biological mechanisms of posttraumatic stress disorder (PTSD), with a goal of determining how a traumatic event affects people differently. She's on a firm path now, looking forward to getting her degree in about a year, but it wasn't always that way.
Originally, Pooley thought she wanted to be a doctor, but after an assistantship with a neuroscience professor at Eastern Illinois University, Pooley decided she loved research and wanted to get a Ph.D. in neuroscience. MSU was her top choice for doctoral work because she liked the interdepartmental and collaborative research available in the Neuroscience Program.
"I started out on my doctoral research at MSU in 2011, working on a Parkinson's disease project but, on the side, I was interested in PTSD," explained Pooley, who originally thought PTSD was a war disorder. "When I read the symptoms for PTSD, I realized that's what I had. That was my life," said Pooley who was raped when she was 17. "I didn't know that rape could cause PTSD."
As she continued researching the disease, she discovered there were no drug treatments and lost hope of getting better.
At the time, Pooley had a serious substance abuse problem with alcohol and eventually hit "rock bottom" and quit drinking alcohol, but became violently ill. Pooley finally went to a doctor who helped her with her alcoholic withdrawal symptoms and eventually diagnosed her with PTSD. The doctor also got Pooley appointments with a counselor and a psychiatrist – people who understood what was going on.
"I finally realized that even if there were specific drug treatments, they would not address the whole PTSD picture," Pooley explained. "That's where counseling and trauma-specific therapy is effective."
Eventually Pooley began sharing her story with groups on campus, especially other survivors of sexual assault.
"That's when I really started to see the benefits of counseling," she said. "As I met other people who had gone through the same thing, I felt less shame and guilt. Science and medication alone can't address those issues. There are many social support aspects to PTSD."
While going through therapy, Pooley wrote about what had happened to her because it was difficult to explain it to a therapist without having a total breakdown.
"But I could write about it and then read what I had written to the therapist," she said. "I finally got to the point where I could have a conversation about my experiences."
Eventually Pooley turned what she had written for the therapist into a book that she believes will be helpful for others who have had similar experiences. Her memoir, Shadow Brain: A Neuroscientist's Journey through PTSD and Womanhood, was published Feb. 17, 2015, and is available on Amazon and other retail outlets. Pooley is donating 100 percent of the book profits to the MSU Sexual Assault Program, the oldest campus-based program of its kind. Pooley also was a speaker at TEDxMSU in March, where she talked about her journey to recovery.
It was during her journey that Pooley changed her Ph.D. research.
"The more I read about PTSD, the more questions I had that were not addressed in the research, especially about PTSD in women," she explained. "I really wanted to see if it was the same in women as in men and whether treatments work differently. So I switched my research to PTSD and began working in the lab of neuroscience professors Cynthia Jordan and Marc Breedlove."
Pooley has made progress on the research. Using rats as test subjects, she found that female rats responded differently to traumatic stress.
"This is really exciting because it points to biological evidence for why men with PTSD tend to show signs of aggression and anger and women with PTSD tend to show signs of anxiety and depression," she said.
The next step is to see why these differences occur. Pooley theorizes it may have something to do with testosterone or estrogen, the major hormones that are different in males and females.
"I hope that my research findings will help identify biological characteristics of PTSD that can be translated to diagnostic tools and treatments for people with PTSD," she said.