Barbara A. Atkinson, D.O: Pioneering a passionate and compassionate career in infectious disease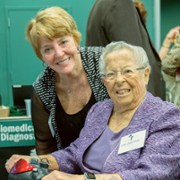 Barbara A. Atkinson, D.O., has been a passionate ambassador for the teaching and learning of microbiology, bacteriology, internal medicine and infectious disease research for more than six decades. Her non-traditional path as a medical student—receiving her D.O. more than 20 years after earning her bachelor's degree—speaks to her success in navigating a world that, at the time, placed many barriers in front of women.
When Atkinson arrived on the MSU campus in fall 1960, she planned to major in mathematics. Working her way through college, she held a job streaking agar plates for medical technology, microbiology and veterinary medicine classes—which, instead, led her to pursue a career in microbiology.
Atkinson earned her B.S. in medical technology in 1964, completed her internship at St. Luke's Hospital in Saginaw, Mich., and then took the position of section head in the microbiology department (1967-1973).
"It was a great time in medicine; many organisms were being identified and new antibiotics were being discovered," she said.
In 1973, she joined the staff of The Bronx Lebanon Hospital Center in New York as a research associate, working with many of the great infectious disease and microbiology experts of that time.
"While there, I became an expert on the effect of sub-inhibitory concentrations of antibiotics on bacteria and phagocytosis," said Atkinson, who presented her research in the United States, Europe and South America.
Both research and teaching were important to her, but she wanted to return to patient care.
After earning her D.O. from MSU's College of Osteopathic Medicine in 1988, she completed her internship and residency at Flint Osteopathic Hospital (Mich.). Her fellowship in infectious diseases at the University of Texas at San Antonio marked the completion of her formal education—which included HIV/AIDS research and clinic experience.
She was recruited to the University of North Texas Health Science Center at Fort Worth (UNTHSC) as an assistant professor in 1994. She rose through the ranks, retiring in 2015 as chief of the Division of Infectious Diseases.
Atkinson has a long history of innovations within her field—from laboratory diagnostics to internal medicine. She has received many accolades over the course of her career. In addition to being widely published, she received a teaching award—UNTHSC's Clyde Gallehugh, D.O. Memorial Award (2000)—in recognition of her ability to combine basic science with clinical medicine; and the UNTHSC President's Award for Clinical Excellence (2011 and 2012). She was also named a Top Doctor by Fort Worth Magazine for 15 years.
She values what her students and patients have taught her over the years.
"One of the most rewarding experiences was seeing HIV/AIDS patients graduate with degrees—including medical degrees," she said.
Atkinson credits her MSU professors and mentors with launching her successful career. In 2017, she established an endowed scholarship in MSU's College of Osteopathic Medicine.
"My mentors have been inspirational to me," she said, "and I would hope that recipients of this scholarship will be committed to their patients, the profession and long-term learning, while mentoring and training the future osteopathic physicians who follow them."
Publish date: January 4, 2022