Billman - Herman: Marching to the beat of the same drummer--endowed scholarships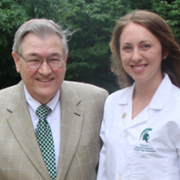 The dream of playing in the Spartan Marching Band (SMB) led Meredith Kate Herman (B.S., biomedical laboratory science, '17) to Michigan State University. But it was a scholarship from James K. Billman, Jr., M.D. (B.S., biochemistry, '69) that enabled her to complete her undergraduate degree and continue on to medical school.
"The SMB gave me opportunities to travel and perform at the Rose Bowl and Cotton Bowl; it was a once-in-a-lifetime opportunity that created some of my best college memories," said Herman, a second-year student in Michigan State University's College of Osteopathic Medicine who played baritone in the SMB.
"I began my freshman year at MSU with several scholarships from my high school; however, despite maintaining honor roll status and being involved in the band, I did not receive any scholarships from MSU—until I was awarded one of Dr. Billman's scholarships for junior year," Herman said.
"Meeting Dr. Billman during the annual scholarship luncheon that year changed the trajectory of my life," she added.
Recently, Herman joined forces with Billman, a long-time MSU donor who has previously established 21 endowed scholarships at the university, to create the Herman-Billman Endowed Scholarship in Biomedical Laboratory Diagnostics. This is the fourth joint scholarship (the second in NatSci) established by Billman.
"My part in this joint scholarship is to contribute enough so the scholarship will be permanent (endowed) status," said Billman, a pathologist from Moline, Illinois. "Meredith's additions over the years should take the scholarship to a significant size."
The idea to establish scholarships and give back to students has always been in the back of Herman's mind, but she was not sure when she would be able to do so.
"Last year, I mentioned to Dr. Billman how amazing it would be to establish a scholarship for BLD someday. He asked if I would be interested in establishing a joint scholarship now, and without hesitation, I agreed," said Herman, who will complete her clinical rotations at MetroHealth–University of Michigan and graduate from medical school with the class of 2023.
"As a pathologist, I recognize that clinical laboratory scientists (CLS) form the backbone of any medical laboratory," Billman said. "While a BLD major can be the basis for any bioscience or professional career, the department graduates numerous well-trained CLS students who take internships and then staff clinical laboratories and hospitals in Michigan and across the country.
"BLD can be proud of the contributions of its CLS graduates to create new assays and improve the quality and reliability of medical laboratory testing.
"I've found that giving Spartan scholarships becomes addictive—in a good way—so perhaps Meredith will catch the same Spartan spirit," Billman added.
Students majoring in biomedical laboratory diagnostics with a GPA of 3.0 or higher will be considered for the Herman-Billman scholarship.
"We are excited for the future of the scholarship as it assists hard-working BLD students in the many years ahead," Herman said.
February 21, 2021