Brad and Cathy Hoot: The evolution of two successful careers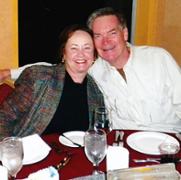 He has been an engineer, folk musician, song writer, author and—most recently—a scholar of evolution. She has been a TV weather anchor, host of a television talk and entertainment show, and Mississippi Young Career Woman of the Year (1973). Brad (B.S. '65, M.S. '66, civil engineering) and Cathy (Boyette) Hoot have certainly led diverse and successful lives.
"MSU did a great job preparing me for my career," said Brad, who served in Vietnam after receiving his degrees from Michigan State University and then joined the Chicago District Corps of Engineers (COE). "I never lacked in my understanding of anything . . . I don't recall anything ever coming up during my career that I didn't feel prepared for."
Brad and Cathy met when he was working in a COE hydraulics laboratory in Vicksburg, Miss., and she worked for the WLBT-TV, the CBS affiliate in Jackson, Miss. They married in 1970.
They recently established the Bradley and Cathy Hoot Endowed Fellowship in Evolution—the first such fellowship in MSU's College of Natural Science. The endowment is for graduate fellows focused on evolution research at MSU.
Brad's interest in evolution versus creation was piqued by debates he had with Cathy's father.
"Cathy's dad and I used to have really great discussions on evolution versus creationism. He was a creationist. I took his opinions seriously. He made some good points. It forced me to read a lot and look up a lot of research, to see both sides of it," Brad said.
The fellowship endowment agreement states that preference will be given to graduate students who would be willing to engage with alternative thinking.
"I hope the recipient would represent the evolution side in any kind of debate or public exposure—to try to get the thinking that's behind it out to the public," Brad said. "The decision-making system should be based on scientific methods."
"I share the same views that Brad does," Cathy said. "Science needs to be the driving factor in just about everything we do. We can certainly see how important that has been in dealing with COVID. Science is really important from the standpoint of having a valid education for the future."
"We want the endowment to focus on students who not only do microbiology and paleontology, but those who can present the different kinds of thinking between creationism and evolution so people can make intelligent decisions," said Brad, who is also working on a book about the subject.
The Hoots feel it's imperative that they invest in MSU with this endowment.
"I appreciate MSU," Brad said. "I recall hearing the statement: 'Michigan State tries to give as quality an education as it can to as many people as it can.' That resonates with me. I like to support that."
"I may be a Mississippi girl, but after visiting the MSU campus, and being married to Brad for 50 years, I can tell you right now, I'm definitely a Spartan!" Cathy said.
And Spartans will make the world a better place.
Published: December 2021