Cade Dembski: Becoming comfortable with the unknown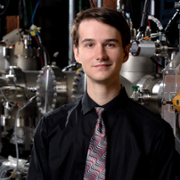 Cade Dembski hails from East Lansing, Mich. He is a senior majoring in physics and clarinet performance and is a College of Natural Science Dean's Research Scholar .
As a senior nearing the end of my time at Michigan State, I've starting think that one of the most important things I've learned here is how quickly time flies. When I take a break from the chaotic crossfire of wrapping up what's been and preparing for what's to come, I'm a bit amazed to find myself here.
I'm now closer (temporarily, at least!) to being a college graduate moving onto the next big phase of life than I am to the wide-eyed freshman I was when I came to campus in Fall 2018.
One of the things I remember most distinctly about my first semester is how overwhelmed I felt beginning my career in research. I always felt like I was getting lost in between variable conventions I hadn't seen, computer programs I wasn't familiar with and jargon I didn't know. Of course, most of this was true: I had no way of knowing much of this information prior, but that didn't stop me from stressing about it!
Now, as a senior, my confidence as a young scientist is stronger. I'm far more confident in discussing the work that I do day in and day out, partially thanks to the diverse presentation opportunities I've had from conferences I've attended to the Dean's Research Scholar's Program, but also, I'm more confident with what I don't understand. I'm now comfortable identifying what is confusing or unknown to me in presentations, articles or classroom assignments, and I'm capable of asking more effective questions to expand my knowledge and connect the unfamiliar to the familiar.
My progression from one stage of unknowns to another is one of my proudest achievements. I've learned so many lessons here, both professionally and personally that I will carry forward with me, even if it felt like I was done in the blink of an eye. Perhaps this is what's most important. I'll probably never understand where the time has gone, but I can at least be comfortable with the surprise.
Publish date: Oct. 15, 2021