Carl Bruch: How it all fits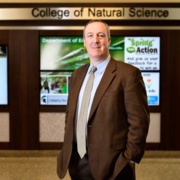 When he was an Honors College student in the late 1980s, physics major Carl Bruch had the opportunity to explore the many different courses and career paths that Michigan State University (MSU) had to offer.
"I was interested in science, but I wanted a broad education. I was attracted to MSU because it offered so many courses, options and activities," said Bruch, who now directs international programs at the Environmental Law Institute (ELI) in Washington, D.C. "When you're interested in many things, it's really challenging to figure out what you want to do. MSU gave me the chance to explore."
During his senior year, Bruch led a successful student campaign to adopt a recycling program at the university. He said that experience energized him.
"I was inspired by the opportunity to do something for the environment while I was at Michigan State," said Bruch, who received his B.S. in 1989 in physics, with additional majors in mathematics and anthropology.
After earning a master's degree in physics, and with his MSU experience in mind, he sought a career that was more applied, one that had more direct contact with people, one that benefited the environment. That's when he became interested in international environmental law.
At first, he wondered whether he would be leaving physics behind. But he quickly found that the analytic skills he honed at Michigan State were well suited to law.
"I've always been passionate about systems," Bruch said. "Environmental law brings together the social systems, legal systems and natural systems. The classes I took at MSU—non-linear dynamics, cultural anthropology, psychology—suddenly integrated and were relevant in ways that I had not foreseen."
He graduated with his law degree from Lewis and Clark in Portland, Ore., in 1996, completed a fellowship and started working at ELI in 1997.
"One of the first projects I worked on was related to the environmental consequences of war—analyzing the state of law, science and economics in addressing wartime environmental damage," Bruch said.
Six years later, he took a sabbatical working for the U.N. Environment Program in Nairobi, helping countries to implement environmental treaties. Upon his return, he became ELI's director of international programs. In this new role, he has been a leader in a global effort to establish a new multidisciplinary field of environmental peacebuilding.
"Environmental peacebuilding seeks to manage the environment and natural resources across the conflict lifecycle, to lay a foundation for durable peace," Bruch explained. "It looks at the role that grievances related to natural resources have as a contributing cause of conflict and how to resolve disputes before they escalate, mitigating the effects of armed conflict on the environment, and helping countries to recover from conflict."
For example, Bruch said they have identified more than 30 major armed conflicts since 1990 that have been financed at least in part by natural resources, ranging from diamonds and timber, to cashews and coca.
"Bit by bit, we're developing the architecture that is necessary for this new field," he said.
Bruch led the development of an environmental peacebuilding knowledge platform (environmentalpeacebuilding.org) and the Environmental Peacebuilding Community of Practice, which includes more than 2,900 people in 95 countries.
Environmental peacebuilding integrates a wide range of disciplines, resources, geographies and conflict dynamics. Bruch credits his College of Natural Science education at MSU for his success in this complex field. "MSU taught me many ways to think, understand contexts, analyze problems and develop solutions—often across disciplines."
He is happy to see that the university is now even more integrative in its curricula and activities. He noted that Michigan State is now actively encouraging students to work across disciplines, and a number of faculty now have joint appointments across different departments.
"There are so many problem-rich environments that require integrated analyses and creative problem solving," he added. "Michigan State is a leader in preparing the next generation of integrative practitioners and policymakers.
"I didn't plan this career path, but the broad range of experiences and skills that I cultivated at Michigan State laid the foundation for my environmental peacebuilding work, and I frequently draw upon those skills," Bruch said. "It all fits together—often in surprising ways."