Carol DesJardins: MSU education "adds up" for small-town girl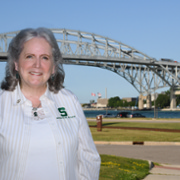 "I am a mathematician. Everything I do, I approach as a mathematical problem."
That's how Carol DesJardins (B.S., mathematics, '71) describes herself.
When DesJardins entered MSU's freshman class in fall 1967, she began as an elementary education major. But after completing one math course, she decided to major in mathematics—which was unusual for a woman at that time.
"It's what I liked. It's what I was good at," she said. "But I was the only woman in the class."
She said coming out of a small town to go to a large university such as MSU empowered her.
"It was a little intimidating going from a small town to a big university. MSU gave me the confidence to go forth and accomplish everything that I've done. I wouldn't have been able to do this without Michigan State," DesJardins said. "My MSU education gave me the strength, and the knowledge of what I had within me."
After DesJardins received her degree, she returned to her hometown of Croswell, Mich., to work in the business world. Supplementing her math degree with computer programming coursework, she went on to work in the corporate world in the areas of manufacturing and distributing in Grand Rapids, Mich., and the Detroit area.
"I worked for small- to medium-sized companies—family-owned companies, primarily. I really enjoyed that I could see the results of my work," she said.
After 20 years in the business world, working her way up to chief information officer, she decided she wanted to teach.
DesJardins earned her master's in teaching from Marygrove College in Detroit in 2000 and was a professor of computer information systems at St. Clair County Community College until 2014. She is also a contributing author to several textbooks, including New Perspectives on Microsoft Excel 2013, Comprehensive and New Perspectives Microsoft Office 365 & Excel 2016: Comprehensive.
"I'd never worked so hard in my life. And I never enjoyed anything more than I enjoyed teaching," she said. "I loved the students; the adult learners were amazing."
Now retired, she is putting a plan in place to give back to her alma mater.
"I think it's important for us to give back—in every area. I never questioned that I would give back to MSU, because I felt I received so much from them," DesJardins said. "I'm incredibly proud of my degree from MSU."
You could say that DesJardins' innate desire to give back is genetic. Her family had a unique tradition where each of the seven siblings was expected to provide for the education of the next youngest sibling.
"It's just something we grew up with. We thought everybody did that," she added.
"We all should learn to turn around and help the people behind us, and smile and say thank you. We have kind of forgotten how to do those things. And we haven't given ourselves a very good world as a result," DesJardins said.
"So, why do I give back? Because I can!"
Published September 9, 2019