Chiadika Nwanze: Fifteen hours and beyond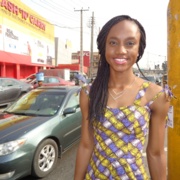 Chiadika Nwanze is a senior majoring in neuroscience and French from Lagos, Nigeria, and a College of Natural Science Dean's Research Scholar .
I remember leaving Nigeria to begin my first year at Michigan State University. It was Tuesday, the 14th of August 2012. I woke up wondering what lied ahead for me and the rest now is an exciting and challenging journey. I had given little thought to the future beyond my 15-hour flight and thus, had little idea of what my university experience was going to be. I was aware of my flair for the sciences and wanted to contribute to medical care in Nigeria.
East Lansing was different. It lacked the overly busy roads Lagos had accustomed me to, the helter-skelter in which I had found solace while visiting Atlanta and New York. East Lansing had trees, all overflowing with a tranquil greenness. Go Slow was completely absent; it was called traffic here because vehicles moved smoothly and no one seemed to be in a hurry to get to their destinations. I felt as if I had stepped into foreign land; a valid feeling, given the fact that I had.
I liked the campus instantly. The Gothic theme made the vine-streaked walls seem replete with knowledge. There was a familiarity among strangers. They liked to talk, and if I said nothing after they spoke, they talked some more. There was a total lack of noise. The generators that hummed me to sleep nightly were gone; yet I could not sleep. However, this was going to be my home for the next 4 years. I psyched myself to forget I was a 16-year old freshman far from home.
Eager to engage with familiar things, I joined the African Students' Union. We planned events. We bonded over being away from home. And most importantly, we made Jollof rice. I learned about other African countries and realized how little I knew about my own continent and the world. I continued to learn and immerse, picking up a third language and stumbling upon a passion for scientific research on this journey of discovery.
This seemed to be a ringing theme as I continued to transition. I grew fonder of the sciences and became more aware of medicine; its innovations, breakthroughs and the lives it did or did not affect. In Nigeria, I was very much aware of the luxury seeing a doctor and did not want to lose sight of the person behind the disease in my career. This was the passion that drove me to take Neuroscience to obtain this mix of psychology and biology.
From experiencing the vibrant communities of centre-west France to studying the HIV virus in Boston, joining the Spartan community has provided me with unlimited opportunities for discovery. Now, as I write this article in the cool Lagos harmattan breeze while preparing for my last semester at MSU, I realize that my experiences at MSU have far surpassed anything I could have imagined four years ago beyond my 15-hour flight. I look forward to how these experiences will shape my life in medical school and beyond.