Chris and David Wright: Wright Family Endowed Scholarship provides funds, encouragement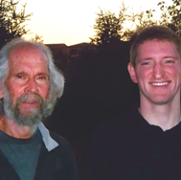 When a student receives funds through a scholarship award, the money means a lot to them. But even more important is the message behind the money.
"When you give a scholarship, you're giving money; but you're also telling the recipient that you believe in them and want them to succeed," said Chris Wright who, along with his father, David Wright (Ph.D., chemistry, '75), recently established an endowed scholarship at MSU. "And that's incredibly important."
The Wright family has a multi-generational history of giving. And now, this unique father-and-son gift to MSU will carry on that tradition.
As part of the war generation, Howard Wright and Doris Spahr (David's parents) had an understanding of self-sacrifice and knew the value of a strong community. They met in a chemistry class in 1941 and married in 1942. Howard first worked in a munitions plant during the war and later took a position at Abbott Labs as a synthetic organic chemist. After raising David and his three siblings, Doris went back to school and earned her master's degree in special education. Doris and Howard also established the Wright Home for severely disabled adults, and often took in kids from troubled homes who needed a stable living environment.
Five years ago, Chris, who earned a degree in communications from Stanford, approached his dad with the idea of starting a scholarship fund for high school students from immigrant families.
"I was adopted from Russia and given all the advantages in life that I needed—a great education, proper moral values, fully paid college tuition—to boost my ability to be successful in life," Chris said.
But it was an experience early in life that really inspired Chris to give back. He recalls a childhood friend who grew up in a family that did not have the resources that Chris had.
"He was able to get some college scholarships, earn his medical degree and become a successful physician," Chris said. "But what if he hadn't been able to become a doctor and achieve his dreams?"
"The worst situation is when you hear about someone who has potential, but can't afford to go to college," David said.
Several years ago, David began conversations with his alma mater about establishing an endowed scholarship at MSU.
"I really liked the idea of giving to MSU because it's a land-grant university; it's for everybody," David said. Chris decided to join in and match his father's contribution.
David retired in 2018 after 25 years of work in the area of building NMR instrumentation, and 22 years of design and implementation of mass spectrometry data processing techniques. Chris is currently the head of growth for an online reputation management company located in California.
"When I sent in that first amount of money for this MSU scholarship fund, it was so internally rewarding," said Chris, who now wants to expand his giving. "I'm always asking my dad: 'What more could we be doing? What else can we be engaging with?'"
It's just the Wright thing to do.
Published December 15, 2020