Chris and Michelle (Tombro) Tracy: Proud to support some of the world's great minds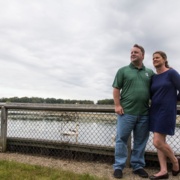 Living on the shores of Gull Lake in Richland, Mich., Chris Tracy (B.A., James Madison College/political theory, '90) and his family can look across the water and practically see how their contributions to Michigan State University are making a difference.
The Tracy family lives across the lake from the Kellogg Biological Station (KBS), one of 13 MSU field research stations located around the state. KBS is home to a National Science Foundation Long-Term Ecological Research Site, a U.S. Department of Energy Great Lakes Bioenergy Research Center, an experimental pond laboratory, a pasture-based dairy research and education facility, undergraduate and graduate research and classes, the Kellogg Bird Sanctuary and the Kellogg Manor House. The Tracys support KBS with both money and time.
"We have a strong connection to everything KBS," he said. "My two sons love the Bird Sanctuary and have volunteered there. We all love how things have been preserved environmentally. I was asked to be on the KBS advisory board and we keep getting more and more involved."
A partner in the Kalamazoo office of the Honigman law firm, Tracy also serves on the KBS Capital Campaign Board and formerly served on the Gull Lake Quality Organization (GLQO) Board. There is a long history of partnership between KBS and GLQO.
Originally from Clare, he met his wife, Michelle Tombro Tracy, at law school in Chicago. After living and working in Chicago for a number of years, they wanted to live somewhere between Detroit and Chicago that would be a nice place to raise children. The Kalamazoo area fit the bill and Tracy said finding a house on Gull Lake became almost a full-time job for his wife for the better part of a year.
Although he knew that KBS existed when he was an undergraduate, he said he didn't fully understand everything it had to offer. The Tracys are enthusiastic outdoors people—they enjoy kayaking, biking and hunting and they are long-time Ducks Unlimited members. Michelle is an avid runner and the whole family enjoys spending time at their cabin in Cheboygan.
"I think it's important for everyone to give back," Tracy said. "I started donating to MSU because of my wonderful experiences at James Madison. People without resources can give back without giving money. But if you have the means and can afford to donate, it means you're all in -- you're fully supporting what you believe in. The things that are being studied at KBS affect our everyday life. My son got to build an eagle's nest there -- he'll remember that forever. Shame on me if I don't give to something I enjoy.
"For me, the benefits of donating to KBS make me appreciate all that KBS is involved with and allows me to be more informed," he continued." I'm invested in it. I can share the message of why KBS is important and use myself as an example to inform others. We care so much about the resource. Some of the world's great minds call KBS home and there is a great history of water research and waterfowl conservation there. We are very proud to support it."