Christina Liu: It's not just about the fish!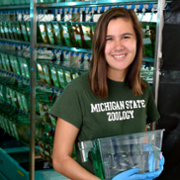 Christina Liu hails from Royal Oak, Michigan. She is a senior majoring in environmental biology/zoology and is a College of Natural Science Dean's Research Scholar .
Coming to MSU as an environmental biology/zoology major, I knew I wanted to work with animals. I grew up going to countless zoos, aquariums and museums, and knew that one day I wanted a career related to those places.
Not knowing where to start my freshman year, I joined Emerging Scholars, a class dedicated to getting undergraduate students involved in research within the Department of Integrative Biology. During this class, I learned that I really liked aquatic organisms, and soon joined Dr. Julia Ganz's Zebrafish Lab, helping run the fish room. My first year in the lab was mostly fish husbandry, where I fed the fish, did health checks, water quality tests, and cleaned tanks. Wanting a career working in an aquarium, this is exactly what I wanted.
After becoming accustomed to the lab and the hundreds of fish in it, Dr. Ganz allowed me to participate in some of the lab experiments. I would be working less with the fish themselves, and instead running molecular experiments to study their genomes. I remember wondering if this was something I wanted; I enjoyed taking care of the fish—was that the only thing I wanted to do? I decided to give it a chance, as I had a slight interest in genetics and learning how to do Polymerase Chain Reactions, or PCRs, (a chemical reaction that molecular biologists use to amplify and replicate pieces of DNA) would be a cool experience. This one decision changed my college career.
I immediately fell in love with the work I was doing. I studied genes to see how they affected the development of the enteric nervous system. I utilized molecular techniques to see what would happen if a gene was altered in a zebrafish. I found a new passion for developmental biology that I didn't think I had and began to work on my own research projects. My career path quickly changed; though I still wanted to work in an aquarium, I wanted to do research with the animals behind the scenes.
My research experience is one of the things I value most about my time at MSU. I have learned so much about myself on top of gaining important laboratory skills. My lab has also helped me improve on my public speaking and scientific writing through poster presentations and a co-authorship on a paper. I have gained new friends and mentors throughout the years, and they've supported me through my accomplishments and my challenges. My research experience is not just about the fish; it's about learning what my true passions are and what I want to do to make a difference in this world.
Publish date: November 25, 2021