Clarence Suelter: Living a life of purpose; sharing a wealth of knowledge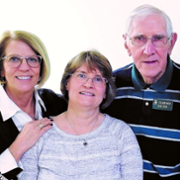 Clarence Suelter is described by his colleagues as an "excellent role model" and an "outstanding scholar, teacher, mentor and colleague who is an inspiration to us all." His family and friends say he is "a real gentleman," and a "kindhearted, generous and patient person."
Now retired, Suelter was one of the first faculty members hired to join Michigan State University's new Department of Biochemistry in 1961. He was the department's undergraduate programs director from 1986-1989 and served as director of MSU's Division of Science Education in 1987. He also authored A Practical Guide to Enzymology.
In addition to his research—which focused on protein biochemistry—he mentored undergraduate, graduate and post-doctoral students in his lab. Suelter took his teaching seriously, always listening to his students.
"I asked several students to volunteer to participate on a committee to provide feedback on large lecture courses," said Suelter, who retired in 1994. He met weekly with about a dozen students who provided feedback that was useful in improving faculty lectures throughout the department.
He also served on the board of directors of the Impression 5 Science Center in Lansing, Mich., and enjoyed working with high school teachers through NSF-funded workshops.
"I set up projects for science teachers to come to campus for workshops where they could learn various research experiments to take back into their classrooms," he said.
To celebrate Suelter's academic achievements, one of his department colleagues, Shelagh Ferguson-Miller, along with her husband, established the Clarence Suelter Endowed Post-Doctoral Fellowship.
"When I first came to MSU in 1978, Clarence was one of the most welcoming and helpful of the faculty—to me and my students," said Ferguson-Miller, University Distinguished Professor Emeritus. "He was a wealth of knowledge in the area of protein biochemistry and was always willing to offer advice and lend us anything we needed. Dr. Suelter's scholarly ability and collegial and supportive nature were a great asset to the department.
"Offering a named postdoctoral fellowship is a very effective way to attract excellent postdoctoral scholars to MSU, which is key to furthering high-quality research in the department and increasing the stature of MSU and its faculty," she added.
"I've always appreciated my father's passion and level of commitment to his life's work—be it in the lab, or at home writing grant proposals, or working with and motivating high school science teachers," said Jenifer Nelson, one of Suelter's daughters, who lives in Grand Rapids, Mich.
Even after retiring from the department, Suelter remained active with the Division of Science Education and also authored two publications—the history of MSU's College of Natural Science; and the history of the biochemistry department (from 1961-2011), available online at https://bmb.natsci.msu.edu/sites/_bmb/assets/File/BMB-History-2011.pdf.
Suelter received many letters after his retirement; one letter from a past graduate student reads: "The guidance we received for a research project was more like throwing us into the sea—or in this case Lake Michigan—and expecting us to learn to swim. Our lives, our degrees, depended on us being able to complete a successful, independent research project."
Publish date: March 25, 2021