Clay and Nancy Hunter: Climbing rocks and breaking barriers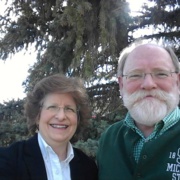 He was on the expedition team that drilled the first bedrock holes in Antarctica. She broke barriers by being the first Texaco female geologist to stay overnight on an offshore drill rig. His cutting-edge research on the Navajo reservation in Arizona led to a new technique for understanding tectonic histories. Together, they have a combined 80-plus years of groundbreaking service in the field of geology.
Clay (B.S., geology/igneous petrology, '72) and Nancy Hunter met when they were geology graduate students at Northern Illinois University in the mid-1970s. She said it was the T-shirt he was wearing that first captured her attention; it read "Go Climb a Rock." They married in 1978, and Clay went on to earn his Ph.D. in geochemistry and volcanology in 1979 from the University of Texas. Now retired, they live in Golden, Colo.
"We say in the geology field that the quality of the geologist is dependent on his or her experiences," Clay said. "I was exposed to so many kinds of experiences at MSU—whether it was the department's inventive labs, or Bob Ehrlich's remarkable way of teaching, or a trip down through the Appalachians over spring break. My Michigan State experiences provided a valuable foundation and framework for me."
Clay's Ph.D. dissertation involved estimation of temperature and pressure in source regions of kimberlitic diatremes (deep volcanic rocks that sometimes contain diamonds) on the Navajo reservation; he helped to develop a novel technique for preparing garnet crystal samples for electron-probe microbeam analysis. After completing his doctorate, he was a mine geologist in Colorado, and then worked in the oil business for several years. He finished his career with the U.S. Geological Survey (USGS) studying permanent nuclear waste disposal and serving as a senior technical writer and editor for the USGS publishing division.
Nancy earned her B.A. in 1973 from Knox College in Galesburg., Ill, and her M.S. from Northern Illinois University in 1975.
"I was always good in science and math," Nancy said. "Fortunately, nobody told girls in my school that it was unfashionable to be good in math and be a girl." She enrolled at Knox College, majoring in math.
"After a couple of years, math became very abstract to me," she said. "So I took a geology course just for fun. Realizing this is where I needed to be, I switched my major to geology."
After earning her M.S., Nancy was recruited by Texaco to work in their Bellaire, Texas, office as a micropaleontologist. "Things were very conservative at Texaco—but I broke that barrier." She then spent more than 25 years with a company in Boulder, Colo., that specializes in geologic software.
"Nancy has supported her undergraduate school for many years and we've recently ramped up our contributions to Michigan State," Clay said.
"I've seen what an impression MSU has made on my husband," Nancy added. "Michigan State is continuing to strive to provide people with a good education, a good experience, good life lessons. How could we not contribute to that?"
April 25, 2020