Cody Madsen: Graduating with much more than a degree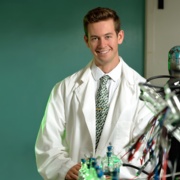 Cody Madsen is a senior majoring in biochemistry and molecular biology and is a College of Natural Science Dean's Research Scholar . Madsen hails from Battle Creek, Michigan.
Senior year has approached more rapidly than words could ever describe. Four years of life- changing opportunities and an equal number of challenges to overcome has left me grateful to be a Spartan. Walking in the front door to my dorm as a freshman nearly four years ago, I never expected how quickly this undergraduate experience would pass, resulting in so much being accomplished and even more important lessons learned.
I will be graduating in May 2018 with a major in biochemistry and molecular biology and a minor in environmental and sustainability studies. Yet, I feel that I will be graduating with much more than a major; I will be graduating with nearly three years of research experience under the best mentor a young undergraduate and man could hope to learn from—Michaela TerAvest. Under her guidance, I have been able to accomplish first authorship on multiple manuscripts and pursuit into a long research career to my eventual goal of owning my own research company.
As I look toward the future, I see an internship with DOW Agrosciences and the pursuit of a Ph.D. in biomedical engineering. I also see a lifetime of living out what it means to have Spartan Will. When thinking about this motto, I feel a sense of responsibility—a responsibility to Michigan State to exemplify what a Spartan can accomplish and a responsibility to improve the world as part of a generation prepared to accomplish that mission.
Graduation will be bittersweet to me in several ways. I will forever miss this university if I choose to pursue graduate school at another institution. I will miss the atmosphere surrounding this campus from the comradery of students and faculty to the never-ending pursuit to demonstrate our leadership as an institution in all fields. I will also miss making memories with friends from every background, while watching sports and celebrating the end-of-finals week. My decision to come to this university has shaped me into a man that has renewed motivation to change the world.
I am grateful for Michigan State, my family and all those who have stood behind me in my pursuit of greatness throughout my undergraduate experience. Without these people, I would not be where I am today, because I have not accomplished everything I've done on my own accord. It is with the utmost gratitude and humility that I can say these last four years are one I will forever cherish.