Dan and Karen Friderici: Helping aspiring scientists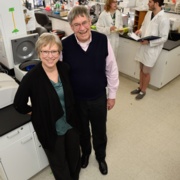 Take a stroll through any Michigan State University research building on any given day, and you'll feel it: an air of mystery. It surrounds the potentially groundbreaking science taking place in the labs that line the hallway, as much as it surrounds the people in the labs. The ones doing the science. The researchers.
For many years, Dan and Karen Friderici, who both retired as MSU microbiology and molecular genetics professors in 2014, were the people doing— and teaching—the science.
Now, through a $750,000 bequest in their estate plans, they've created the Friderici Undergraduate Research Scholarship in the MSU College of Natural Science, to help demystify laboratory life for aspiring scientists and provide the financial flexibility for students to participate in research.
It's a concept Dan and Karen are quite familiar with.
They both came to MSU as science majors in 1963. Though they agree that meeting each other in physics recitation was probably the most important thing that happened to them as undergraduates, their experiences working with MSU faculty researchers were pretty important, too.
Aided by a National Science Foundation fellowship, which provided room, board and a stipend in exchange for working in a lab, Karen found her niche and never looked back.
"When I accepted the fellowship my freshman year, I knew nothing about being in a lab. But I fell in love with it," Karen said. "It put the stuff I was learning in class in a context that made sense. It made everything clearer—including what I wanted to do when I graduated."
For Dan, who came to MSU on the Alumni Distinguished Scholarship, it was much the same. "During my freshman year, I spent Saturdays in a biology lab with a faculty member who was working in an area that I didn't end up pursuing, but I learned a lot," he said. "I learned procedures, I learned approaches, and I learned that I was interested in the process."
For both, these experiences were the start of long, successful careers in science. Along the way, they've encountered plenty of curious, driven students who, given the opportunity, might find their home in a laboratory, too.
"A scholarship makes it possible for students to concentrate fully on research," Karen said. "Because it isn't something you can do on the side. If I'd had to work another job in addition to pursuing research, it would've been unbelievably hard."
"We've seen over and over what a difference it makes to expose undergraduates to research in a laboratory setting," Dan added. "It's critical for helping students decide what they like or don't like in terms of a career. Because you can't get any idea of what it's like by just standing outside."