David Taft: "Good Chemistry" in life and career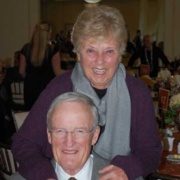 The importance of family and making a positive contribution to society are attributes that were instilled in David Taft as a young boy, and qualities that define his life and a distinguished career in the specialty chemical industry that spanned nearly five decades.
Taft was born in Cleveland, Ohio, and spent most of his childhood in Columbus, Ohio, where his father, Kingsley Arter Taft, served as an Ohio Supreme Court Justice from 1949 to 1970. Biographies and profiles of Judge Taft's life after his death in 1970 stated that he left two impressive legacies—a tremendous dedication to public service and devotion to family.
"I've been lucky to be successful, and so you look back and feel the need to give back something—I was raised to think that way," said Taft, who retired in 2012 as the chief operating officer for Landec Corporation (and its subsidiary, Apio, Inc.), a Menlo Park, Calif.–based materials science company that focuses on developing innovative, differentiated products for food and biomedical businesses. "There comes a point when it's payback time."
Initially interested in becoming a math major, David attended Kenyon College in Gambier, Ohio, and, while there, decided that he was more interested in organic chemistry—in particular, the polymers and plastics industry.
"The chemical industry was really a hot, prominent field in the 1960s,"Taft said. "Any decent and useful product that was made and offered for sale, sold. That was very compelling to me."
Once he finished his degree at Kenyon, Taft planned to go to graduate school to gain a more in-depth knowledge of the field.
During his junior year at Kenyon, Taft met his wife-to-be, Sara Leonard, on a blind date. Sara, from Traverse City, Michigan, was attending a nearby school—Denison University. Since Sara was a couple of years behind David in college, they decided that they would try to find a Big Ten university close to Michigan that would be a good place to attend—she would transfer and he would go to graduate school there.
"We looked at the big universities in Ohio and Michigan, and I fell in love with Michigan State," Taft said. "I was very impressed with Michigan State's chemistry department. It was very collegial and everybody seemed to be working together. That was very important to me."
Completing his Ph.D. in 1963, Taft embarked on a career that landed him at a half dozen top-tier companies. In addition to Landec and Apio, his portfolio includes positions held with ADM, Ashland Chemical, General Mills Chemicals, Henkel Corp. and Raychem Corp.
Taft never expected to work for as many different companies as he did or to have the breadth of experiences he had.
"When people ask me, what has been the center point of my career, I tell them that I've had the good fortune to be on the edge of change for my entire career," he said. "It's been challenging and fun, and my ability to navigate the change and be successful is based largely on the education I received at Kenyon and the strong, indepth graduate education I received at Michigan State. The professors were very supportive of my graduate work and interested in a positive way in my career aspirations."
In 2004, Sara and David Taft funded an endowment—The David and Sara Taft Graduate Fellowship in Chemistry—to support graduate fellowships in organic chemistry or in areas of biotechnology within the MSU Department of Chemistry.
"Sara and I were hopeful that setting up this fund would help attract outstanding students to participate in the many leading-edge research programs in the Department of Chemistry and strengthen MSU's ability to produce fully trained professionals who are well-prepared and wellrounded for fruitful careers," Taft said.
Taft also understands the importance of a strong undergraduate education. This past June, he and Sara hosted a gathering at their summer home on Old Mission Peninsula in Traverse City to showcase MSU undergraduate research and creative experience beyond the classroom.
"The opportunity for these students to be engaged in research early on in their education is wonderful, but it entails a tremendous amount of effort and resources to pull it off," Taft said. "It will take the personal support and financial contributions of many of us to make sure that these students are successful, both in the classroom and out in the world."