Don Nguyen: Bittersweet ending brings appreciation, determination amidst COVID-19 challenges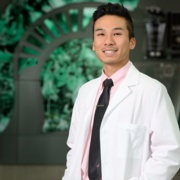 Don Nguyen, from Omaha, Neb., is a senior majoring in microbiology and genomics/molecular genetics. He is a College of Natural Science (NatSci) Dean's Research Scholar , participates in the Residential Initiative on the Study of the Environment (RISE) program and is a University Distinguished Scholar.
As the unprecedented situation with COVID-19 unfolds during my final weeks at Michigan State, I am both saddened by the experiences I will miss out on (the last day of classes, time with friends, and a proper graduation ceremony), but, at the same time, appreciative of the wonderful memories I have already made. MSU has been a one-of-a-kind home that has given me all the resources I ever needed to succeed. This ending is bittersweet . . . but the university, the people, and the city of East Lansing, Mich., will always hold a special place in my heart.
During my time here, research has been an integral part of my experience. For the past four years, I have worked in Professor Leonel Mendoza's laboratory in MSU's Biomedical Laboratory Diagnostics Program. My research projects have included a breadth of areas from eye-washer biofilm analysis to nuclear replication imaging to pathogen epidemiology. I know without a doubt that my future career will incorporate some form of research, and Professor Mendoza's profound influence on my drive to succeed is the biggest reason I consider him such a great mentor.
Another one of my influential mentors circles back to my decision to join the Residential Initiative on the Study of the Environment (RISE) Program at MSU my freshman year. Through this initiative, I have learned a tremendous amount about the climate from Laurie Thorp, director of the program. She has also taught me so much about life, how to be happy and what we can do to be environmentally conscious. She is without a doubt another great example of what it truly means to be an educator, and I will always be grateful for her mentorship. She has taught me that it doesn't take much to care for nature, be conscious of our carbon footprint and protect our planet – we only have one after all.
As a University Distinguished Scholar and a NatSci Dean's Research Scholar, I have used these distinctions to supplement my experiences. Just a few weeks ago, I had the opportunity to travel to south Florida to represent NatSci and to speak with alumni/donors. I also got the opportunity to meet President Stanley, a figurehead who proudly represents MSU; and Susan Goldberg, a strong leader and editor in chief for National Geographic. It is no shock to me that the influence of Michigan State is so nationwide, and I hope to add to that impact as I prepare for graduate school.
Next year, I will be attending Duke University to earn a degree in global public health (don't worry, I will still be rooting for MSU basketball). With all the uncertainty surrounding coronavirus, my goals in global health are now more important than ever. Public health serves as a tool to not only protect people's health but to reduce fear and safeguard a common way of life.
Conducting research at Michigan State and being a NatSci Dean's Research Scholar has been an amazing chapter of my life. Although this chapter will soon come to a close, I can't wait to see what the next part holds.