Donna Duberg: A transformative gift for BLD's future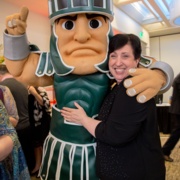 Since her undergraduate years at Michigan State University, Donna Duberg has been a dedicated supporter of MSU's Biomedical Laboratory Diagnostics (BLD) program and the profession in general. As soon as she took her first course, microbiology, she fell in love with medical technology.
"It was a very welcoming department," said Duberg, who was originally a pre-med student. "I loved the material, and I was very good at it. I really felt like I belonged there."
Her involvement with the MSU program, currently housed in the College of Natural Science (NatSci), continued long after she received her B.S. degree in medical technology in 1971. While Duberg was a graduate assistant in 1982, she and Sharon Zablotney, program director at the time, launched the first Michigan Association of Laboratory Science Educators conference, which continues to this day. After earning her M.A. in educational psychology in 1985 and her M.S. in clinical laboratory science in 1986, Duberg served as an instructor and clinical coordinator for MSU's Clinical Laboratory Science program.
In 1998, she left MSU to accept a position as Clinical Laboratory Science (CLS) Program director at Barnes-Jewish College of Nursing and Allied Health in St. Louis, Missouri, which eventually merged with the Saint Louis University CLS program. Duberg helped grow the program, serving as assistant professor, vice chairperson and director of undergraduate education for the Department of Biomedical Laboratory Science from 2007 until her retirement in 2018.
Her most recent contribution to MSU's BLD program was the establishment of the Donna M. Duberg Graduate Award in Clinical Laboratory Science in July 2019.
Duberg never expected to be able to contribute in this way, but after conversations with members of NatSci's development team and MSU's planned giving team, she realized she was able to make a gift that will be transformative for the program's future. She views it as a way to express her gratitude for the opportunities that have come her way as a result of her MSU educational experiences and the mentoring she has received from her professors and colleagues throughout her career.
"As today's young people come into these programs across the country, we need to instill in them the need to question, to be more interested, to read more of the literature, which is now so readily available," Duberg continued. "We need to focus them on the responsibility they have to the health care system."
"It's evident that MSU students are excited about learning," Duberg added. "You can tell when you meet them. You can tell by the information we read about in the newsletter, and the things they go on to do . . . and it begins with the faculty."
Duberg notes that MSU has always been considered the "top of the wave," the "cutting edge" in the field. "MSU will continue to lead," said Duberg, confident that the momentum will carry on.
The BLD program will celebrate its 100th anniversary in 2026.
Jan. 13 2020