Dr. Elizabeth Seaman: Notes on an orchestrated life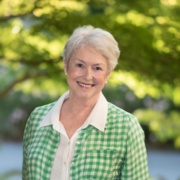 You could say that because of MSU, Elizabeth B. Seaman, M.D., has been making beautiful music her entire life. Whether in the orchestra chair, or in her doctor's chair, her lifelong passions are obvious.
Seaman literally grew up on the Michigan State University campus. Her father, Richard U. Byerrum, became the first dean of the College of Natural Science (NatSci) in 1962, and was instrumental in the establishment of MSU's College of Human Medicine. The family lived in Cherry Lane Apartments, which housed young faculty after World War II.
After graduating from East Lansing High School, Seaman considered going away to college—but only briefly. She decided to enroll at MSU and majored in zoology because the required courses fit in with her music classes.
"MSU was very flexible; I was able to graduate with my degree from NatSci while spending at least half of my time in the music school," Seaman said. "I doubt that would have happened in many other places."
Receiving her zoology degree as she walked across the stage in 1968 was quite special; her father, as dean of NatSci, handed her the diploma.
Seaman then received her medical degree from the University of Michigan in 1972, completed her internship and residency at George Washington University, and established her internal medicine practice in 1977 in California's Marin County, north of San Francisco, just across the Golden Gate Bridge. Currently, she regularly sees 12-15 patients each day, many of which are the children—and even the grandchildren—of the patients she saw when she first opened her practice.
In addition to 40 years in private medical practice, Seaman has been involved in music ever since she first picked up a violin in fourth grade. As a freshman in high school, she began playing the bass, and while at MSU she played in many ensembles. She played double bass in the Marin County Orchestra for 35 years and is now on the board of directors.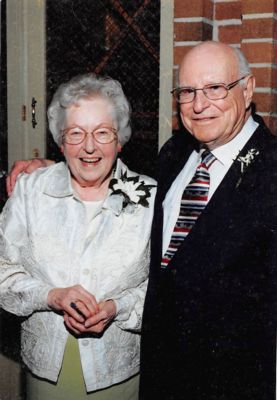 Caption: Claire and Richard
Byerrum in 2003
Seaman gives back to MSU by contributing to the Richard U. and Claire M. Byerrum Fellowship, which was established in 2009 by her mother, Claire, in memory of her husband and his commitment to MSU. Richard, who died in 2008, received his Ph.D. in biochemistry from the University of Illinois at Urbana-Champaign and joined the MSU faculty in 1947 as an assistant professor; after retiring from the dean's office in 1986, he again taught biochemistry, mentored graduate students and did research for the next several years.
The endowment fund for graduate students in the Department of Biochemistry and Molecular Biology has subsequently received gifts from the Byerrum family, in addition to former students and colleagues of Richard, and has been a priority for Seaman's philanthropic giving.
One fellowship is awarded each year.
The first was awarded in 2015-16 to Daniel Parrell.
"It was an honor to receive the first Richard U. and Claire M. Byerrum fellowship," said Parrell, a fifth-year Ph.D. student who plans to finish his degree in spring 2018. "Receiving the award enabled me to travel to a scientific meeting where I shared my research on fundamental processes of bacterial gene regulation in the model bacterium Bacillus subtilis. I cannot thank the Byerrum family enough for the support given by this award."
"I am very grateful for the support of the fellowship," said Ph.D. student Peter Dornbos, the 2016-17 recipient. "I can truthfully say that I love my job, my dissertation topic and the friendly nature of the biochemistry and molecular biology department. Financial support, such as from the Byerrum endowed fellowship, helps make this research possible and provides me the opportunity to participate in something I thoroughly enjoy."
"Growing up, my whole life was at MSU," Seaman said. "It's important for me to give back to the university that had such an influence on me."