E. Dean Butler: An alumnus with a clear vision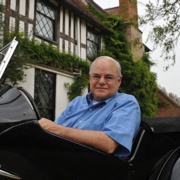 E. Dean Butler is a true visionary—literally. But he didn't always have a clear vision of where he would end up. This extremely successful entrepreneur and founder of LensCrafters—the "eyeglasses in about an hour" company—said that he came by his first job out of college somewhat by accident.
When Butler (M.S. chemistry, M.B.A., '69) began looking for a job, he wanted to pursue a product development position. He signed up through MSU's placement office to interview with Procter & Gamble, but he ended up on the wrong interview list. He found himself talking with a P&G representative about a marketing job in brand management. But this "mistake" began his successful career. He worked for the company from 1969 until he opened his first "while-you-wait" optical business in 1983.
"That was another one of the things I did by accident," said Butler, referring to the opening of his business. "People who look at my career say 'That was great planning!' But it was not planned. It was an entrepreneurial thing," Butler said. "I seized an opportunity; I didn't let it slip by. Here is how Butler's opportunity came about.
In the late 1970s, when one of Butler's P&G colleagues, John, quit his job to run his late father-in-law's family optical business in Louisiana, Butler agreed to help develop some television commercials.
"We took his sales from $38,000 per month to $164,000 per month, just by doing basic advertising," Butler said. During one of his visits to Louisiana, Butler and his colleague toured the lab where the company's eyeglasses were made.
"I was flabbergasted to see how straightforward it was," Butler said. "I found out that there is virtually nothing that takes more than 20 minutes to make. Yet, back in those days, it took two weeks to get a pair of glasses. I kept thinking, if someone were to do a while-you-wait service, that could really be an interesting marketing concept."
In early 1982, when Butler found out from his colleague that an optical store in New Jersey was offering a 48-hour service, he again wondered aloud why it was not a while-you-wait service.
In March 1983, Butler quit his job at Procter & Gamble and opened LensCrafters—the world's fi rst one-hour-service optical store. Within four years, there were more than 400 LensCrafters stores across the country; it was the largest optical retail business in the world. In the late 1980s, Butler sold LensCrafters to U.S. Shoe Company and took his "glasses-while-you-wait" concept overseas. He began opening stores in England, Australia and Italy. The first overseas store—Vision Express—opened on Oct. 13, 1988, in Australia. Today, he has the number one optical retail business in Russia, with more than 100 LensMaster stores in operation. All told, he has had optical stores in 28 nations.
Butler now describes himself as "sort of retired." He sold most of his optical retail businesses, and was a consultant until very recently to the Russian businesses. He currently lives in England with his wife, Elena, who is an ophthalmic microsurgeon, and their two daughters—13-year-old Anya and 11-year-old Dasha.