Eleni Varelas: Pushing limits to advance the boundaries of medicine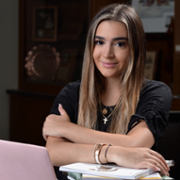 Eleni Varelas
hails from Albany, N.Y. She is a junior majoring in human biology and psychology and a is
College of Natural Science Dean's Research Scholar.
They say that your passion finds you. I feel as though my passion found me and, when it did, it overwhelmed me in the best possible way. It was the summer before my first year at Michigan State and I agreed to shadow my dad and his team of doctors and nurses in the Neuro Intensive Care Unit at Henry Ford Hospital in Detroit.
After the milestone of high school graduation passes, the most common question to follow is what will I do next? What my end goal would be, I was not sure.
As a high school student, I pursued studies in anatomy and physiology, having developed an appreciation for the inner workings of the human body.
Shadowing in the hospital was a way to better understand how I can apply my interests. I have to admit I was overwhelmed when I first stepped into the ICU. The patients in this unit were immobile, unconscious and suffering from vascular-related illnesses or trauma in the brain.
The most common cases were complications due to stroke. There were many days where no matter the number of interventions and medications or how much time or effort was exerted, what was needed would never be enough. This realization has left me wanting to do more for people's health.
My experience in an ICU really solidified my choice to pursue becoming a physician; however, it also left me wondering what more can be done while in pursuit of this goal. Accepting a research assistant role with Dr. Cabrera and her team was one of the best decisions I have ever made for my passion.
My frustrations for the limitations in patient care makes my being part of a research team that explores ways to push for advances in medication very exciting. Our team studies novel technologies for patients with depression and is impacting the lives of patients who thought they were out of options. What we thought was the limit is actually just the beginning. The boundaries of medicine are constantly being questioned, pushed, and pursued aggressively and innovatively. When people ask me why research is so important to me, I want to always stress that it gives me hope for our patients and our future.
Publish date: Nov. 3, 2021