Emmalee Skorich: MSU study abroad reignites passion for travel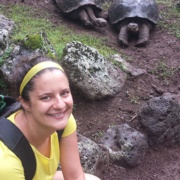 Emmalee Skorich is a senior majoring in neuroscience from DeWitt, Mich., and a College of Natural Science Dean's Research Scholar .
My childhood summers were spent sharing the middle seat of the family van with my sisters as my family traveled around the country. My parents took us to magical destinations like Yellowstone National Park and Prince Edward Island in Canada. We slowly meandered our way to our final destinations in order to experience all of the possible attractions and beauty that we passed along the way. All of these incredible vacations gave me the travel bug at a very young age.
I was excited to attend Michigan State University because they were the No. 1 study abroad program in the nation. I promised myself that I would go on study abroad. However, before I knew it, two years flew by and I was nearing the end of my sophomore year. I had been so busy focusing on my grades, teaching a biology lab and preparing for medical school that my study abroad had taken a back seat. Most of the programs that I was interested in would have given me credit for the prerequisites that I had already completed. I was convinced that I had missed my chance.
Then I stumbled upon the opportunity of a lifetime during the fall of my junior year – a study abroad to the Galápagos Islands and the Amazon Rainforest in Ecuador. It was the type of trip that I would likely never make without the help of MSU. I applied for the trip and crossed my fingers. Three months later I was officially accepted.
With sixteen other students, I spent two weeks on seven different islands of the Galápagos. I snorkeled with Galápagos penguins, sea lions, sea turtles, and Galápagos sharks every single day. I once counted 19 sharks around me in 60 meter deep water! I also spent hours hiking while learning about the unique terrestrial animals of the islands like giant tortoises, Darwin's finches, and iguanas. Each day was an adventure full of fascinating animals, history, breath taking views, and conservation. We then traveled deep into the heart of Ecuador's rainforest to a lodge without electricity. We hiked everyday with the help of local tribesmen in order to catch glimpses of monkeys, caiman, exotic parrots, wild pigs, and jungle cats.
This was a trip I could never replicate without the resources and staff support from MSU. It was the best experience of my life and it reignited my passion for travel.