Gay Birchard: Student support is a top priority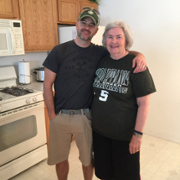 Gay Birchard thought she would one day be a U.S. Navy nurse. So she joined the Future Nurses club in high school, and after graduating in 1958, she enrolled in nursing school at Michigan State University. By the end of her freshman year, realizing that the program was not challenging enough for her, she decided to switch her major to medical technology.
"I went and talked to Dr. Esther Smith," Birchard said. "She helped me figure out how I could take all the required classes for the med tech degree and still graduate with my class." (Smith was hired by MSU in 1955 as an assistant professor.)
Birchard received her B.S. in June 1962, and on July 1 began her job at Oakwood Hospital in Dearborn, Mich.
During the next several years, Birchard held jobs in Chicago, Denver, San Francisco and North Dakota. She would marry and have a son. In the 1970s, when the family moved back to Michigan, she took a part-time position in Ann Arbor at the University of Michigan Medical Center in the pathology department.
"I was so thrilled to get that job," recalled Birchard, who was employed there for the next 30 years. She would teach med tech classes, take over the role of supervisor in the phlebotomy department and serve as interim manager of the department for three months.
Because of her successful career and her wise money management, Birchard was able to use her retirement assets to make a planned gift to MSU to establish the G. Birchard Scholarship Fund, an endowment that provides scholarship funds to students in good academic standing who are intending to receive a B.S. from the Biomedical Laboratory Diagnostics Program. The goal is to minimize the recipients' need to incur debt to complete their undergraduate degrees.
"We hear about how much debt today's students carry. And I've read about how some college students don't have enough to eat, or they live in homeless shelters. That's just outrageous!" she said.
"Looking back on my life, med tech was very good to me. I was able to work in all kinds of settings—part-time and full-time. And the university hospital was an amazing employer. I was able to grow in my job," she added.
In 2017 Birchard, who now lives in Florida, returned to campus for the BLD program's 90th Anniversary Gala and was pleased to meet up again with Smith, who became director of the medical technology program in 1968.
"It was really great to see her again," Birchard said. "She was so influential in getting me organized so I could graduate on time."
Birchard's advice to other MSU alumni about giving back to the university: Learn how to manage—and invest—your earnings so you will have money to donate. Keep in contact with your MSU department/college to learn what's going on in your field and find out how you can help. If you are not able to give back now, consider a planned gift in the future.
"Even a small donation can make a big impact," she said.
March 12, 2019