Gregory Hauser: "The world really needs MSU"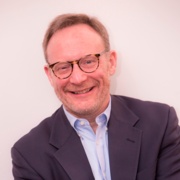 When asked why he donates to Michigan State University, Gregory Hauser (B.S., zoology, Honors College, '75; M.S., zoology, '81), a partner in the law firm of Wuersch & Gering LLP in New York City, answered the question immediately.
"I believe in the institution and its mission," he said. "The world really needs MSU. As we become ever more dependent on knowledge, educational institutions become more important to the success of society and the economy. MSU's mix of research, teaching and its land-grant mission make it a very special place. It's one of the few places that has it all."
Growing up in the suburbs of Rochester, New York, Hauser's original career aim was to work at a zoo.
"I wanted to major in zoo biology and as I was looking at universities, I discovered there were only a few that had quality programs in all the disciplines I needed, such as zoology, fisheries and wildlife, animal husbandry, and veterinary medicine," he explained.
Two others besides MSU met his needs: the University of California, Davis, which was too far away, and Cornell.
"So my plan was to go to MSU for my undergraduate degree and then Cornell for grad school," he said.
This wouldn't be the first time Hauser's education and career trajectory changed.
An outstanding student, Hauser received an Alumni Distinguished Scholarship, which covered all his needs for four years of school. Because he earned advanced placement credits in high school, Hauser came to MSU as a sophomore and used the last year of his scholarship to pay for his first year of graduate school at MSU.
"When I was looking at zoo jobs after I graduated, I realized there were only so many out there and only so many in research or science," he said. "You have to follow the jobs, so there wasn't much choice in where you live. So I started considering other options."
Medical school sounded interesting, but too long. Law school was appealing because he could be done in three years and environmental law sounded like a good fit. An excellent LSAT score meant he had his pick of law schools and he ultimately enrolled at New York University, in part because he had always wanted to live in New York City.
"Then I took an environmental law course and hated it," he said with a laugh. "But I loved moot court. At MSU, I minored in German, so now I represent German-speaking companies in U.S. courts."
While his office on Wall Street seems far away from zoology, Hauser has made time to stay involved in his first passion. He has volunteered at the Bronx Zoo and has given zoo tours for New York City MSU Alumni Club members. He's also held leadership positions in the NYC and national alumni organizations. On campus, Hauser has planned gifts that will help create an endowment in zoology/integrative biology. He's also created an endowment for the Alumni Distinguished Scholars in the Honors College and made significant gifts to the MSU Libraries.
"I loved my five years at MSU," he said. "MSU paid for four of my five years there and I want to pay that back.
"My endowment in zoology is unrestricted," he added. "I've done enough work with nonprofits that I know how restrictions can tie a director's hands. I'm very confident that MSU will do great things with what I give them."