Jack Preiss: Respected scientist, gifted performer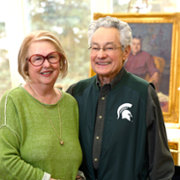 Some may know him as Nicely-Nicely Johnson from Guys and Dolls, or Marcellus Washburn from Music Man, or Charlie Dalrymple from Brigadoon. But to most in the MSU community he is Jack Preiss, University Distinguished Professor Emeritus.
Preiss always had an innate sense for science, as well as a talent for singing and performing. Born in Brooklyn, New York, he was seven years old when he began singing solos in synagogue. At age eight, he enrolled in a chemistry course at Brooklyn Technical High School. Years later, while completing his Ph.D. and postdoctoral fellowships, he took singing lessons from accomplished opera singers.
After serving for two years (1960-62) in the Army Reserve in the Public Health Corps in Washington, D.C., he joined the faculty of the University of California, Davis, moving up through the ranks to become chairman of the department. During that same time span, he performed in various roles in opera, Broadway shows, and Gilbert and Sullivan productions.
In 1985, he received an offer he couldn't refuse; he joined the MSU faculty as chair of the Department of Biochemistry and Molecular Biology (BMB)—and also joined the MSU Opera.
In addition to serving as BMB chair (1985 – 1989), his robust research program on plant starch and bacterial glycogen synthesis and regulation was supported by the NIH, USDA and NSF.
He retired from MSU in 2009 at age 77—but he and his wife, Sue, have no intentions of leaving the community that has been so good to them.
Sue grew up in a small beach town outside of Los Angeles, Calif. She met Jack on a plane in 2002 when she was returning from a Florida vacation and he was returning from a trip to New York City. They were married nine months later.
After 35 years in the financial planning business, she also retired in 2009. They now travel worldwide so Sue can pursue her passion—oil painting.
Since retiring, Jack has performed in several musicals with local theater groups, including the Holt-Dimondale Community Players and Riverwalk Theatre.
In 2008, Jack and Sue established a planned gift for an endowed faculty position in BMB. They also support the College of Natural Science, the College of Music and the Broad Art Museum, among other MSU units.
"They made my career here," he said. "The College of Natural Science gave me the resources to do a lot of research and gain a reputation. I felt I had to give back."
Although Jack is officially retired, he remains close with the scientific community. He still receives requests to do research paper reviews, and keeps in touch with some of his 20 former Ph.D. students.
"A few years ago, when we were in Japan at a scientific meeting, we met with one of his former students—who is now a CEO," Sue said. "This dignified, erudite Japanese man was reduced to tears during that dinner as he related what Jack has meant to his career, and his ability to become a very important man in his country.
"Jack's influence has been so widespread, so meaningful. Not only in the scientific community, but for so many other people," she added.
"All these things you're hearing, he makes light of. But he's a pretty big deal," Sue said.
But he doesn't see it that way.
"I'm just Jack," he said.
Published March 27, 2019