Jacqline Njeri: My last hurrah (before graduate school)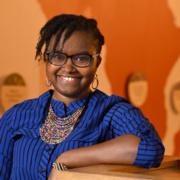 Jacqline Njeri , from Limuru, Kenya, is a senior majoring in biochemistry and molecular biology/biotechnology and a College of Natural Science (NatSci) Dean's Research Scholar .
"So, what's next for you?" This is a question that most fourth-year undergraduate students dread, and I was no exception. Immediately when I became a senior in Fall 2019, my teachers, family and friends bombarded me with this question. My response was always, "Ask me in March 2020." March arrived, and this is what I've been doing to clarify the answer to this question.
Ever since I started working in a research lab in 2017, I knew that I wanted to go to graduate school. Narrowing down my list of schools to apply to was taxing. I had to consider my research interests, the program's funding, tuition waivers, health insurance and other factors.
Eventually, I had a list of 10 programs, and in September 2019, I started writing my personal statements.
This was the most daunting part of the application process because I needed to choose the most relevant information that best expressed to the admissions committee who I am and what my research interests are. For help, I turned to my graduate student mentor, Ana-Maria Raicu, a Ph.D. candidate in Professor David Arnosti's laboratory, and a member of the MSU Graduate Women in Science Mid-Michigan Chapter. Ana-Maria constructively critiqued and reviewed my essay drafts and, eventually, I had a unique essay for each school.
After submitting my application packets, all I had to do was wait. Waiting made me so anxious that I kept refreshing my emails and the application portal for updates every day. When I finally heard back from my first school in mid-December, 2019, I was both excited and nervous because my chances of joining graduate school were now 50-50. I could not risk letting go of this great opportunity, so I did extensive research on the faculty members who would interview me to ensure that my interview was the best. Surprisingly, by the end of winter break, I had seven interview invitations!
Attending these interviews was exhilarating. Two weekends in January 2020 and each weekend of February 2020 were spent in a different state, meeting new people, experiencing different academic settings and exploring different research areas. Traveling to these schools meant missing my Thursday and Friday classes; however, I had informed my professors at the beginning of Spring semester that I would be missing these classes. They understood and allowed me to do extra assignments, such as writing chapter summaries, to make up for the classes missed.
This application journey concluded with six graduate school offers. I have yet to choose where I will attend in Fall 2020, but 'what's next' for me is pursuing a doctorate (Ph.D.) degree in biochemistry and molecular biology.
As I reflect on my time as a Spartan, I have definitely maximized the opportunities accorded to me.
Through my diverse research experience, extensive theoretical knowledge from my classes and encouragement from MSU faculty and staff, I conclude my senior year with several accolades and awards. I was selected as a NatSci Dean's Research Scholar and an Undergraduate Research Ambassador for the second time in September 2019. I won an award for Most Outstanding Presentation at Rice University's Gulf Coast Undergraduate Research Symposium in October 2019 and won the Dr. James K. Billman Jr. Undergraduate Research Award in November 2019.
My graduation this May will be my last hurrah as an MSU undergraduate but marks the beginning of life as a Spartan alumna. I can't wait!