James Hoeschele: Alumnus gives back to MSU--his "second home"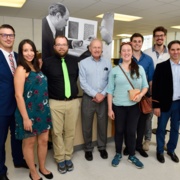 Jim Hoeschele has been part of the Michigan State University community for 25 years during the course of his career—as a doctoral student, a research fellow, an assistant professor and, most recently, as a collaborative researcher.
He first came to MSU in 1959 to pursue his doctorate degree in chemistry, working in the lab of Carl H. Brubaker, a professor in the College of Natural Science. Upon completing his Ph.D. in 1965, he took a position at Oak Ridge National Laboratory.
He returned to MSU in 1970 for an opportunity to work as a cancer research fellow in the lab of biophysics professor Barnett Rosenberg, who is credited with the discovery of the anti-cancer drug Cisplatin, which was approved by the Food and Drug Administration (FDA) in 1978, revolutionizing the treatment of certain cancers—especially testicular, bladder, lung and stomach cancers—and saving countless lives. In that same lab, Hoeschele helped develop Cisplatin as well as co-invent another successful anti-cancer drug—Carboplatin—which was approved by the FDA in 1989.
"That began my long-time career in chemistry in the area of cancer chemotherapy," Hoeschele said. "That was the impetus for where I am today."
Between 1972 and 1994, Hoeschele held various positions—in industry, pharmaceuticals and academia—before he would return to MSU, where he taught general chemistry to non-majors and supervised undergraduate researchers until 2009.
After teaching at MSU for 15 years, Hoeschele retired. "But I failed retirement!" he laughed.
Wanting to get back into the academic environment, he became an adjunct volunteer at Eastern Michigan University, where he teaches and works with students in the lab to develop anti-tumor drugs. He also reconnected with MSU, where he collaborates on research projects in the chemistry department.
Although Hoeschele did not have the opportunity to work in a lab during his undergraduate years, he realizes just how important this type of experience is.
"Undergraduate research is an extension of the theoretical work students learn in the classroom," he said. "They discover what is required in a research project in terms of conception, planning and execution, the disappointments and successes. It prepares them well to take on professional jobs in industry or academia."
That's why Hoeschele has been one of the key supporters of MSU's Dean's Research Scholars (DRS) Program—from interviewing potential scholars to providing financial support.
"The DRS Program has had a huge impact on these students' lives," Hoeschele said. "It has created a group of MSU ambassadors to promote the university and the science, and to let the public know the quality of students we have here."
In addition to supporting the DRS Program, Hoeschele and his wife, Audrone, have provided generous gifts in a variety of areas in the Department of Chemistry and to other MSU programs.
"We hope these investments will help lead to the development of chemists and others who can make valuable contributions to society," he said. "Clearly, not everybody will make the type of contribution that Dr. Rosenberg did, but I'm sure others' contributions will reflect on MSU just as strongly.
"MSU is my second home," Hoeschele added. "I've had a very interesting and worthwhile career. Now, I intend to give back—for as long as I am able."