James Rodman: Donating to honor the opportunities he was given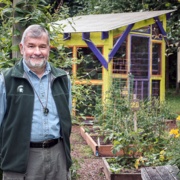 When James Rodman (B.S., botany and plant pathology, Honors College, '67) was a student, he worked in the MSU Herbarium, which was initially housed in the hallways of the Natural Science Building. At the time, he had little inkling of how much this job would influence the arc of his life.
The first person in his family to attend college, Rodman decided on MSU because he received an Alvin Bentley Foundation Scholarship for his first two years, which paid his tuition and room and board. His last two years, he received a Trustees Scholarship, which covered only his tuition only.
"So that meant I had to get a job," Rodman recalled. "I started in the science library and then worked in the Herbarium, which involved many of the same library skills. I had been taking botany, chemistry and economics courses, but was undecided about the direction I wanted to take. Dr. John Beaman was director of the Herbarium and he took me on a field trip to Mexico to collect plant specimens. That secured my future in botany. It opened my eyes to a world far beyond Detroit, where I grew up, and Michigan."
Today, the Herbarium is located in the basement of the east wing of the Plant Biology Building and contains more than 500,000 plant specimens from all over the world, including lichenized and non-lichenized fungi. Its vascular plant collection is the oldest in the state, with a number of historically important specimens.
"At its core, a herbarium is a museum of dead plants that have been pressed and dried," Rodman explained. "But there are also publications and photographs, so a herbarium usually has a library associated with it."
Rodman went on to earn his master's and doctoral degrees in biology from Harvard and then taught at Yale for a number of years. He also served as a program director for the National Science Foundation until he retired to Washington State in 2006. But he never forgot MSU. As soon as he got his first job in 1973, he began giving to the university and has donated every year since that time, including creating the MSU Herbarium Endowment Fund and the James E. Rodman Botany Scholarship Endowment.
"MSU is my first love," Rodman said. "The endowments are my way of honoring the place where I had been given opportunities, as well as honoring John Beaman. MSU sent me on my career in life and I want to pay that back and help future students have the same opportunities I did and capitalize on their education. I want students to be able to launch themselves into the world the way I did. I feel almost a moral obligation to give back. MSU gave me so much. The people who have remained my friends over the years are the people I met at MSU.
"I see it as making an investment in botany at MSU," he continued. "It allows MSU to continue to lead that field and also helps support students."
Botany continues to be a big part of Rodman's life, even in retirement. To keep busy and get out of the house, Rodman signed up for Master Gardener classes and also helps tend a community garden.
"My garden at home is a smallish affair," he said. "It's mostly ornamentals with fragrant flowers, like peonies and mock orange. It offers me both exercise and therapy."