Jessica Yen: Falling in love with research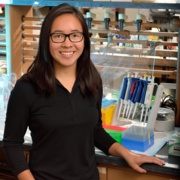 Jessica Yen is a sophomore majoring in biomedical laboratory diagnostics and is a College of Natural Science Dean's Research Scholar .
As a young girl, growing up in East Lansing and having two Michigan State University alums as parents, I fondly remember crowding around the television as we cheered on the Spartan basketball team. My sister and I would scream, "Go green, go white!" as we rooted them on. I was bred to bleed green and white and as a child, and I couldn't imagine going anywhere but MSU for college.
When high school rolled around, so did the start of plans for college. The most consistent chatter that went around consisted of rankings and which school topped which—the University of Michigan became a prominent topic.
When I applied to college, I decided that I might like to move away, but not too far. And to any Spartan fan's horror, my top choice at that point was MSU's rival, the University of Michigan (UM).
After I was accepted by Michigan State and early action to UM, I began my decisionmaking process, which prompted a self-reflection of my past, as well as my present and future plans. While I was in 9th grade, my role model at the time was diagnosed with Parkinson's disease, and I watched his prognosis develop. That very fall, I attended the Neuroscience Fair at MSU and met a student researching Parkinson's disease. Her poster brought my thoughts back to my role model, and a desire to seek answers through research hit me like a wave.
The following spring, I applied to the honors research seminar at my high school and was one of 10 students accepted into the program. I soon developed a strong interest in stroke and cardiovascular disease. I discovered that Professor Anne Dorrance's lab at MSU held this focus, and I entered her lab for a summer project between my junior and senior year of high school and presented at my first conference.
I knew then that research would be a prominent part of my life. The importance of tackling some of the world's issues through a pursuit of knowledge was all too clear for me. After long contemplation, I decided that Michigan State would be the best choice for me because I would be able to apply more depth to my research goals and continue my pursuit of knowledge in a topic that I was experienced in, allowing me to achieve more.
Beyond the pursuit of knowledge, as a researcher, one of our most important callings is to pass our knowledge on to the rest of society. As a Nat Sci Dean's Research Scholar, I am able to share what I have dedicated my time and effort to and pass on all I have learned. I am ever grateful for this opportunity and the dedication and efforts of MSU and the College of Natural Science to emphasize research and the importance of sharing knowledge.