Joan and Jack King: Endowment honors pioneer in animal behavior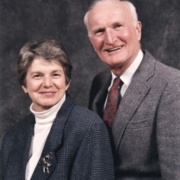 A former Ph.D. student of John "Jack" King wrote in his obituary: "Perhaps Jack King's most important contributions to mammalogy and animal behavior were in the form of guidance and mentoring of students during their student years and afterward."
Jack King, who joined the MSU faculty in 1961, was well respected worldwide for his studies in animal behavior. A founding member and president of the Animal Behavior Society, his research centered on how the behavior of animals is affected by their early life experiences.
But those who knew him concur that maintaining personal relationships, and mentoring students and colleagues, was an even more important aspect of his career.
"He was really a unique person," said Joan, Jack's wife of 65 years. "He kept in touch with friends from grade school, high school, undergrad college and graduate school, as well as his graduate students and colleagues. Even his crew from his time as a B-17 pilot in the U.S. Army Air Corps."
Jack met and married Joan while they were students at the University of Michigan (U of M). When Jack joined the MSU faculty, Joan completed her M.S. at MSU and took a position as a social worker at Lansing's Sparrow Hospital.
"One of the reasons Jack came to MSU was because animal behavior was already a strong component in the zoology department," Joan said. "He helped them expand in that area."
Joan was with Jack while he worked on his thesis project—a field study of prairie dog social behavior in Wind Cave National Park in South Dakota. The memory of those years, camping within the prairie dog colony—along with buffalo herds, antelope, and other species of animals—inspired Joan to establish the John A. King Award for Research in Animal Behavior in memory of her late husband, who died in 2014 at age 93.
"Learning is a lifelong process," she said. "Jack was in a position to be taught, to learn from others, and to teach students and to serve as a mentor, inspiring interest in animal studies and science. Establishing this endowment in his name seemed to me the right thing to do—to contribute toward the next generation of scientists."
The award provides support for a graduate student in the Department of Integrative Biology, with preference given to those with specialties in behavioral, ecological or systemic research on animals.
After Jack's retirement from MSU in 1986, he continued animal behavior observations and kept up professional and social relationships with his doctoral students. He reviewed their papers, wrote recommendations and discussed their aspirations.
"That made his life rich, too," said Joan, who turns 91 this summer.
In retirement, he enjoyed writing stories based on his experiences as a young man with a passion for the natural environment. His essay titled "Those Critical Periods of Social Reinforcement" was published in Studying Animal Behavior (University of Chicago Press, 1989)—a collection of autobiographies of pioneers in the field of animal behavior.
To access some of Jack's diaries and correspondence, visit https://archive.lib.msu.edu/uahc/FindingAids/ua17-206.html.
July 11, 2020