Joe Faryean: Pursuing a love for science with an attitude of gratitude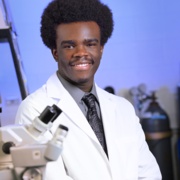 Joe Faryean is a senior majoring in neuroscience from Detroit, Mich., and a College of Natural Science Deans Research Scholar. He is a first-generation college student.
When I look out the window from my room in the basement of Owen Hall, I really can't see anything interesting. All I seem to focus on is my reflection – I now have a mustache that Ron Burgundy would envy!
Looking at myself, I see how much I have changed in my four years at Michigan State University through learning new things and meeting new people. I think about the those who have helped me become a scholar at MSU – Dr. Jerry Caldwell, Mr. Theo Caldwell, Dr. Linda Mansfield and many others. I would like to thank these three individuals because their contribution to my success was major.
I first met Dr. Caldwell during his visit to my high school in Detroit. There he told me about the Charles Drew Science Scholars program in the MSU College of Natural Science that provided a living and learning community for undergraduate students. He told me about the support the program provided through academic advising and coaching. After my conversation with Dr. Caldwell and a visit to the MSU campus, I knew I wanted to be a Spartan and a Drew Scholar.
To ensure my success at MSU, I planned to participate in a summer bridge program that provides students with college experience during the summer before their first semester. I got the opportunity to spend six weeks on campus participating in the Engineering Science Success Academy (ESSA) run by Mr. Theo Caldwell. During ESSA, I conducted my first experiment on the predator and prey relationship between Anemone and brine shrimp. I loved the work of coming up with a hypothesis, designing the experiment and working with others, and this experience further solidified my love for science.
At the start of my first semester, Dr. Caldwell taught my freshman seminar course. He encouraged students to seek out research experience as early as possible and provided resources on how to do so. During my first semester, I applied to summer research programs in Michigan because I wanted to be close to home. I was accepted into the Biomedical Research for University Students in Health Sciences (BRUSH) program at MSU. Through BRUSH, I got the opportunity to work in the lab of Dr. Mansfield, who taught me lab processes and how to conduct experiments. I ran experiments in which mice were infected with Campylobacter jejuni to produce Guillain-Barre like symptoms.
Thinking back to my first day in the lab, I was handed an article to read, and it took me four hours to read it. This is because I had to Google every other word, but by acknowledging what I didn't know and working hard to become knowledgeable, I persevered and enjoyed my experience in the lab. Dr. Mansfield hired me as a student research assistant, and I am still working in her lab.
During my time at MSU, I have presented my research at several conferences and loved that experience. It was my love for communicating my work that inspired me to apply for and become a NatSci Dean's Research Scholar. I would again like to thank Dr. Caldwell, Mr. Caldwell and Dr. Mansfield for engaging with me and encouraging me to follow my dreams even though I am as filled with self-doubt as a first-time skydiver.