John and Margaret Witt: MSU nurtures sweet career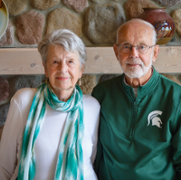 Next time you're in a restaurant and you tear open one of those little packets of sweetener, or you consume a diet soft drink that contains that sweetener, you may want to give a nod to MSU alum John Witt (B.S., chemistry, '57). He spent 15 years of his career leading a division of the pharmaceutical corporation that discovered and developed it.
After earning his bachelor's degree from MSU and his Ph.D. in organic chemistry from the University of Illinois, Witt took a position with G.D. Searle, a mid-size pharmaceutical company located in the Chicago suburbs, doing process technology and improvement of manufacturing operations. He would later complete an MBA degree from the University of Chicago. "I realized this would be helpful as I moved into management positions," he said.
Through the years, Witt moved into the new drug development area of the company as supervisor, director and then senior director.
Then in 1965, a chemist at Searle accidentally discovered the sweetener—which became known as NutraSweet.
"It was an exciting new product, a new area for us," Witt said.
Searle partnered with a Japanese company known for its expertise in food ingredients and amino acid peptide chemistry to begin a new division—NutraSweet—and sent Witt, along with his family, to Tokyo to develop the technology and help launch the product. "It was a really interesting part of our lives," he said. "I learned a lot professionally."
Returning to the United States, Witt was part of a small group of individuals who were responsible for developing the product and the business. He retired as vice president of research and development for NutraSweet to found his own company—Witt Science Consulting—advising small pharmaceutical and venture capital firms in the development of new drugs. "I was able to get back to my drug-development roots," he said.
Witt credits MSU with providing the education, training and nurturing that led him to do "reasonably well" in his career. He said MSU's communication skills, humanities and social science requirements for undergrads helped make him a well-rounded individual.
"MSU broadened my vision beyond chemistry," said Witt, whose focus was organic chemistry. "It expanded my horizons."
The Witts recently established a planned gift to create the John Witt, Jr. and Margaret R. Witt Chemistry Endowment at MSU.
"One of the reasons I went to MSU was because I received a tuition scholarship that was renewed every year," he added. "Now, giving back to education with our time, energy and finances is very important to us," he said.
Over the years, Witt served for multiple terms as a member, and then as president of the Glenview, Illinois, Board of Education. In addition, he and his wife together have provided support for a number of educational activities and civic organizations throughout their lives.
Now retired, they are able to relax and enjoy life—living about half the year on the shores of Lake Michigan in Frankfort, Mich., and the other half in Glenview, Illinois, near their children and grandchildren who live in the Chicago area. Now that's pretty sweet!
Published: September 2021