Kat Magoulick: Crossing oceans and disciplines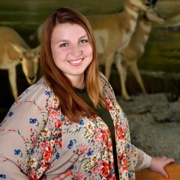 Katherine (Kat) Magoulick, from Fayetteville, Ark., is a senior majoring in zoology and history. She is a College of Natural Science Deans Research Scholar .
Just a few short months ago I returned from studying abroad in New Zealand, and now, I'm heading to Norway for the summer. The differences between my two majors—zoology and history—are almost as great as the differences between New Zealand and Norway.
I traveled to New Zealand over winter break on an MSU Natural Science Study Abroad. We learned about ecology and conservation over the course of an action-filled three weeks. As an undergraduate researcher who studies endangered species, it was fascinating and at times alarming to be able to visit a place with so much threatened wildlife.
This summer, I will be studying at the University of Oslo in Norway, where I will begin work on my senior honors thesis for my history major. I will be researching stave churches and the introduction of Christianity to the Vikings.
As a zoology and history major, I tend to get odd looks when I tell others my dual majors. However, these areas are not as different as they first appear; they are both focused on investigation and analysis. I have actually chosen both my study abroad destinations and my majors for a specific reason—my future career goals.
It is my goal to eventually earn my Ph.D. in paleoecology—the study of the fossil record in order to create a detailed picture of ecosystems in the past. I am interested in looking at factors that caused ancient wildlife to go extinct so that I can prevent species from going extinct in the future. Specifically, I would like to focus on past human impacts on animals in the North Atlantic. In this way I am able to connect my majors and my study abroad destinations.
I chose to study zoology and visit New Zealand to learn more about animals and see how they are impacted by humans, and I chose to study history and visit Norway to learn more about history in the North Atlantic region.
These different aspects of my college career are like puzzle pieces, which I have no doubt I could not have put together without Michigan State. Without MSU's amazing faculty members, the incredible opportunities for undergraduate research, and the nationally ranked study abroad program, who knows where I'd be or what I'd be studying. Regardless of where my future travels may take me, I know that I'll never get tired of wearing my Spartan green.