Katherine J. Wozniak: Step outside your zone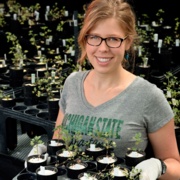 Katie Wozniak is a senior majoring in microbiology from Clinton Township, Mich., and a College of Natural Science Dean's Research Scholar
Before writing this piece, I had a serious case of writer's block. After spending over two months writing for graduate school admissions and conferences, I thought I had overcome all of my writing obstacles. Reading responses from other Dean's Research Scholars helped me work through the writer's block and reminded me of a personal story with an interesting moral.
Throughout my time as an undergraduate researcher at Michigan State, I've had many opportunities to present my work in diverse settings to a range of audiences. Despite my many presentations, presenting new data is always difficult! I realized this while preparing my 10 minute PowerPoint presentation for the American Society of Microbiology (ASM) Michigan branch meeting on bacterial pathogenicity.
In the Maren Friesen laboratory, I study a beneficial relationship between a legume species and nitrogen fixing bacterial species. Those in the field call this relationship a mutualism because both partners benefit from the interaction. You might be wondering "what was someone who studies mutualisms doing at a conference about pathogens?"
A few days before the conference, I was asking myself the same exact question. I was nervous because the meeting coordinators chose me to give an oral presentation - I anticipated being out of place and having a hyper-critical audience. With a little help from a postdoc in our lab, Chandra Jack, I used my experimental data to depict a story which suggested naive microbes had a detrimental (even pathogenic) effect on my legume of study.
Moments before my presentation at University of Michigan, I was still nervous. Luckily, I received a great piece of advice that helped me put things into perspective: "When you're up there, you are the expert in your field." With my trusty cup of cold water, I took to the podium and gave my presentation to an audience of undergraduates, graduate students, principal investigators and laboratory technicians.
Afterward, some attendees came to discuss my research and I felt a huge sense of relief. To my surprise, I was awarded the best student oral presentation! It is a great honor to win, but the lesson within the experience was more important. From this experience, I learned that I was my harshest critic that day and stepping beyond my comfort zone was necessary for scientific and personal development.