Kathy Doig and Ric Benson: Making the connection - The Tao of t-shirts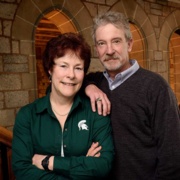 It all started with a t-shirt. Two t-shirts to be exact.
Kathy Doig (B.S., medical technology, '72; M.S., clinical laboratory science, '77; Ph.D., adult and continuing education, '91) and her husband, Ric Benson (B.S., medical technology, '78), have a nearly 40-year philanthropic history with MSU; the relationship was sparked by the couple's need for two Powdermilk Biscuit t-shirts.
"Here's what I remember," said Doig, professor and director of the clinical laboratory science program in the Biomedical Laboratory Diagnostics (BLD) Program. "We were listening to A Prairie Home Companion on WKAR. If we donated a certain amount of money, we would get Powdermilk Biscuit t-shirts—we just had to have those shirts. Plus, they would read our names on the air."
While the shirts have long since disintegrated into tatters, Doig and Benson's connection to MSU continues to deepen and expand.
The couple, who met at MSU and have been married for 32 years, have set up the Kathryn M. Doig and Richard J. Benson Endowment to support the BLD Program.
"Before we started donating to MSU, my best attempt at giving back was through the United Way," Benson said. "While I know that did some good, I didn't feel I was making the impact we could have had."
Doig and Benson said that the endowment was a natural outgrowth of their gifts to the BLD Program, in which both are keenly invested. Doig and Benson are both graduates of the program and Doig has served on the BLD faculty for nearly 30 years.
"The endowment was a very natural thing for us to do," Doig said. "There wasn't a big discussion about it."
Before he retired in 2012, Benson worked for the state of Michigan managing a group of inspectors for health facilities. Prior to that, he worked as an inspector himself.
"As an inspector, I saw people producing lab results who weren't qualified," he explained. "There is a continual need for well-educated people to work in labs. Helping the BLD with this endowment seemed so right to do. There was no real discussion about it."
A curriculum expert, Doig first joined the MSU BLD faculty in 1976 and left in 1979 to direct a hospital-based laboratory education program. She returned to the BLD Program in 1983, staying until 1991, when she moved to the MSU College of Human Medicine to oversee the first-year curriculum redesign. Doig rejoined the BLD faculty in 1998 as clinical coordinator for the undergraduate major accredited by the National Accrediting Agency for Clinical Laboratory Sciences. In 2001, she was appointed BLD Program director and served until 2008, when she was appointed associate dean for undergraduate education in the College of Natural Science. In January 2013, Doig stepped down from her role as associate dean to return to teaching as well as managing special projects for BLD.
Her seven years as BLD director helped shape the parameters of the endowment.
"We made the endowment discretionary so the director could fund what we call 'unexpected, exciting initiatives,'" Doig said with a smile. "So the money could be used to fund a student scholarship if the scholarship fund has already been used up, or to help faculty with new instructional technology or provide funding for faculty members to attend conferences. Having served as director, I know how important it is to have the flexibility to do those things."
"That was my thought process as well," Benson agreed. "Things have accelerated so quickly regarding technology that we couldn't anticipate what needs the director might have 5 or 10 years from now."
Doig and Benson said the sense of satisfaction they get from giving back to MSU is very gratifying.
"BLD helped shape my career opportunities," Benson said. "When I think about my good fortune, I'm hoping that what we're doing can help other people and share that good fortune with them. Just being able to do this feels pretty good."
"I think all of us have a responsibility to give back in a way that fits with our values and interests," Doig added. "To me, education is extremely important. It makes a difference in people's lives. So being able to contribute in that way is very satisfying."