Laura and Robert Sams: Sisbros Studios - A blend of science, comedy and storytelling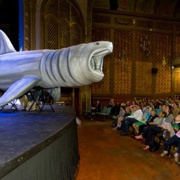 What do a basking shark, a riddle in a bottle and a stranger in the woods have in common?
They are all part of award-winning assemblies and presentations created by MSU zoology alumni Laura and Robert Sams, a sister-brother creative team who own Sisbro Studios, LLC, in Portland, Ore. They produce science-based films, books, music, educational media and live programs that help people discover the natural world (and laugh along the way). They set out to create stories so clever, funny, beautiful and catchy that people can't help but share them again and again.
"My zoology degree gave me the foundation to truly appreciate the intricacies of the natural world, and it opened the doors to meeting incredible scientists and researchers who help us find creatures and stories to film," Laura said.
"Robert and I have been running Sisbro Studios for 13 years," she continued. "When I graduated with my B.S. in zoology, we had the chance to turn the children's book Stranger in the Woods into a half-hour children's movie. Rob and I wrote music, performed animal voices and learned how to film animals in winter, and we were able to make a movie that was a finalist for Best Children's Program at the biggest wildlife film festival in the world. We realized there was a niche for high-quality children's programming. We also started visiting elementary schools to share the writing process and we had to form a business to get paid by the schools. We've been growing ever since."
Despite its success, Sisbro Studios has certainly encountered adversity along the way.
"My greatest challenge for Sisbro has been to convince broadcasters that wildlife programming for children is financially viable," Laura said. "We have such support from parents, teachers and children, but it is hard to get broadcasters to support non-animated shows."
Sisbro Studio's work has been honored with more than 50 international awards, including a Wildscreen Panda Award (which is often called the "Green Oscars"), a KIDS FIRST! Best of the Year Award, a National Parenting Publications Gold Award and a Parents' Choice GOLD award. The brother-sister team has also performed live author/filmmaker visits in venues from the Smithsonian Museum of Natural History in D.C., to the Monterey Bay Aquarium to international schools in Dubai, UAE.
"In early November, we were at the BLUE Ocean Film Festival, where several of our films were shown to a crowd of 700 elementary school kids, and we also performed for them after the movies," Robert said. "When the students were walking back to the buses, we heard one boy say to his friend, 'I'm going to remember that for the rest of my life.' I don't think we could accomplish anything better than that."
So what's next for Sisbro Studios? "We're about to make a music video for the State of Alabama that will be distributed to every single elementary school, to encourage inclusion of children with disabilities," Laura said. "We're going to use our underwater footage of awesome animals and an original song to share how we are all unique, and we all have special adaptations."
To learn more about Sisbro Studios, visit www.sisbro.com.

Laura Sams received her B.S.in zoology in 2000 and her M.S in agricultural and extension education in 2003; Robert Sams received his B.S in zoology in 2003.