Laurie and Joe Thorp: The pull of the Earth--A father's gift paid forward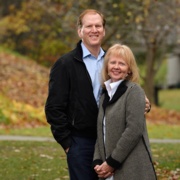 Laurie Thorp (B.S. '81 horticulture) credits her father with instilling in her a passion for gardening and a deep love of the land and nature. She has combined this love with her commitment to undergraduate education and the importance of experiential learning for student development. Through her work at Michigan State University and a Lansing-area elementary school garden, she has been paying it forward for 15 years.
Laurie's husband, Joseph M. Thorp (B.S. '81 mechanical engineering), also firmly believes in the value of the land grant mission and its transformative impact on students and the world. They have committed to a $1 million future gift in support of undergraduate education, split between the MSU Colleges of Natural Science and Engineering. They will also provide cash gifts annually to support undergraduate students.
"Joe and I were fortunate; our college educations were paid for," Laurie said. "We see students now with so much debt, and with very limited ability to pay off those debts. We want to be able to support students and help them have access to education."
Laurie began working with students while she was an undergraduate teaching assistant in MSU's horticulture department.
"I knew then that I loved teaching and I loved growing things. I loved plants and the environment. That propelled me to where I am now," said Laurie, a faculty member in MSU's Department of Community Sustainability.
Laurie and Joe met while they were seniors at MSU. After they were married in 1983, she began work on her Ph.D. degree at Texas A&M. But toward the end of her doctoral program, her father became critically ill so she returned to the Lansing area. He died in 1999.
"She came back to tend her dad's garden and to take care of her estate; it was a healing period for her," Joe said.
Back in Lansing, she shifted the direction of her doctoral research and began a project in a local school district, where she set up an entire curriculum around a schoolyard garden, working with the children and the teachers to study the cultural and educational implications.
"This continues to be a big part of my work today—mentoring students and looking at food, food systems, food access, and health and nutrition," said Laurie, who was one of the founders of the MSU Student Organic Farm.
After Laurie completed her Ph.D. in agricultural education from Texas A&M, she and Joe lived in many cities in the United States and around the world before they returned to the Lansing area.
Laurie joined MSU as an academic specialist in the NatSci dean's office and director of the Residential Initiative on the Study of the Environment (RISE), an MSU interdisciplinary program where students live together in Bailey Hall while earning a minor in environmental and sustainability studies.
Joe has spent his career in the oil and gas sector, most recently with Aramco. He is chairman emeritus of the American Petroleum Institute's Committee on Refinery Equipment, former head of the U.S. delegation to the International Standards Organization technical committee on oil and gas equipment, and is a fellow of the American Society of Mechanical Engineers.
As an MSU alumnus, Joe supports the College of Engineering graduate program by lending his expertise to research involving additive manufacturing of turbo-machinery components, development of high efficiency air conditioning concepts, supercritical CO2 power cycles and ultra-high efficiency combustion engines. He also serves on the college's Mechanical Engineering Advisory Committee.
"Our gift is about making sure people have access to education so they can become engaged citizens in the world," Laurie said. "We know how critically important that is and how much it's changed our lives."