Lucas Werner: Patience and purpose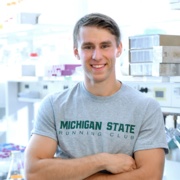 Lucas Werner is a junior majoring in biochemistry and political science from St. Charles, Ill., and a College of Natural Science (NatSci) Deans Research Scholar .
In the United States, our lives are dominated by the very American ideas of time. Skill level is often based on how fast you can accomplish a task with efficacy, tests are given under time limits and results are expected in a timely manner in the workplace. There is very little room for patience and a well-defined purpose for each action.
I came to Michigan State identified as a talented freshman; I had been awarded a professorial assistantship, which gave me access to a paid research opportunity from the starting line. What baffled me was my lack of skills to qualify me for this position; I had never actually worked in a lab setting before.
As I sat down with my mentor, MSU NatSci microbiologist Yann Dufour, for the first time, I expected a similar discussion to past jobs. What kind of time commitment was expected from me, and what kind of outcomes I was expected to produce. What I was not prepared for was the conversation that followed. Instead of discussing expectations for what kind of experiments I was to carry out and deadlines for results, we went over the general function of the lab and future goals. I was given readings to ponder at my leisure to enhance my understanding of the core principles for the lab.
Without any real direction, I set about acquiring the necessary skills to be a productive lab member. This process took me the better part of my first year in the lab. Heading into my sophomore year, I realized that I had yet to accomplish anything; I had not even carried out a "real" experiment yet. At the time, this did not sit well with me. I was used to being highly productive and being expected to yield results, but here I was after a year with, in my mind, nothing to show.
I was then assigned a project of my own, and I began to carry out experiments that were supposed to answer a real research question. Here I am now, a year-and-a-half later, and I still have no concrete answer to that initial question.
Ultimately, my greatest challenge, and what has been most valuable to me in my research experience, has been this slow progression and change of attitude toward learning. As a young freshman, I was concerned with time and outcomes, like many Americans. Over the past few years, I have learned that critical thinking and the journey can often yield insights that are just as important as any physical result. The research process has taught me to slow down in my daily life, to be more critical in my analysis and to appreciate the process.
Too often, we only focus on what we are producing and we miss the forest for the trees. The most valuable part of my research project has been the challenge to my thought process, which is an intrinsic part of any college experience.