Lydia Valtadoros: Finding my place in the world of research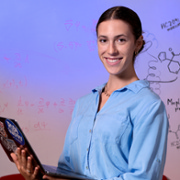 Lydia Valtadoros hails from Ann Arbor, Mich. She is a sophomore majoring in mathematics/physiology and is a College of Natural Science Dean's Research Scholar .
Before attending MSU, I didn't realize that doing research could be a career itself. While I knew professors conducted research, the world of research as a full-time job was unknown to me. Until I adjusted to the learning curve of doing research myself, I never considered the path for myself.
I was lucky enough to start research as a freshman. I joined a computational chemistry lab, part of a group studying the interactions between small molecules and a vital protein in the bacteria cells that cause tuberculosis, the leading cause of death due to infection worldwide. The goal of the group was to understand how these small molecules could interact with the protein and stop it from working, thus causing the cell to die, and battling the deadly disease.
As excited as I was to be involved in the project, I started out as most newbies do: totally lost. The methodology and programs involved in my research couldn't have looked more foreign to me. I understood the basics of what we were doing, but often felt confused and even embarrassed as I kept asking my advisors questions. I wasn't sure I was accomplishing much. How would I make an impact within the group if I couldn't even understand what I was doing?
Looking back, it sometimes seems like my turning point was a single moment in time, and after that moment I knew exactly what I was doing. In reality, I worked hard to overcome the learning curve and become comfortable in my new role. My advisors were patient and helped me gain confidence; after three months, I started to realize that the research articles I was reading and the procedures I was learning were critical information that made sense in my mind rather than a series of separate words on a page. With understanding came excitement. I was happy to supplement my in-class learning of biology with engaging real-world experience and felt proud to be able to participate more in my group and take on more responsibility.
Being a College of Natural Science Dean's Research Scholar (DRS) has further opened my eyes to the world of research. I have gained experience in consolidating my work and presenting it to others who don't have the in-depth knowledge that I now have. It brings me joy to make an analogy or explain my work in a way that clicks for them. Thanks to this program, I have also made connections and realized the impact research has on people in all walks of life. Participating in research has taught me that there will always be challenges and concepts I don't fully understand. But most importantly, there will also always be someone out there to help. The DRS program has shown me the incredible support and community that exists in the field of research, and I know going forward I will have people there for me to lean on.
Publish date: January 5, 2022