Marc Conlin: A dedicated Spartan gives back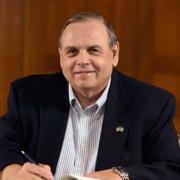 With his combined time as an MSU student and as an employee in the MSU Department of Physics and Astronomy, Marc Conlin has invested some 50 years in Michigan State. His Spartan legacy goes beyond eager learning, devoted professional acumen and trusted leadership to significant financial support—in the form of cash and future gifts.
Conlin received his bachelor's degree in engineering in 1969 and his MBA in 1972—both from MSU. As an undergraduate student, he was employed in the physics and astronomy department, working in the electrical shop and the stock room. After receiving his bachelor's degree, he accepted a full-time job in the department, working his way up to the position he currently holds—business operations and personnel manager. In 2009, Conlin was recognized with the Jack Breslin Award, MSU's highest honor for non-academic staff.
Marc said that the reasons for giving back to the university are easy to list.
"I have been fortunate to have gone to school here, and to work here with the people that I do," he said. "There is vision and foresight here [in the department] to keep us in the forefront of current teaching and research. But I can see the difference that endowments make, both in accomplishing our mission and in enabling great people to do great work."
With cash and future gifts incorporated in his estate plans, including from his university 403b retirement plan, Conlin has provided endowed support for graduate students in physics and astronomy (and engineering), and has created an endowment for recognizing and empowering the outstanding service of university staff in the physics and astronomy department.
As an engineer with an MBA and recognized skills, Marc could have easily launched a career in business and industry, but he said he never gave serious thought to leaving MSU.
"I came to school and then I started working," he said. "I never got bored. I have always been challenged to learn and do new things, trying to do things better or more efficiently. No day is the same, but I use both my engineering and business background every day."
Indeed. No one is encouraging Marc to take an early retirement.